We Finally Have More Details About CSI's Planned Revival And Fans Should Be Happy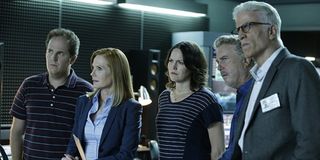 In February, it was revealed that the folks at CBS were interested in reviving CSI: Crime Scene Investigation as an event series called CSI: Vegas. The plan was reportedly for the revival to have aired in time for the original series' 20th anniversary premiere in October. However, while the drama's potential premiere in the fall has been thwarted by production shutdowns, we finally have some more details about the CSI revival, and there is news that fans should be very happy about, with at least two O.G. stars set to return.
CSI ended its 15-season run in 2015 and, although it possibly hasn't been long enough for everyone to fully yearn for the show's return, the CSI: Vegas revival is definitely moving forward behind the scenes. Deadline reports that CSI leads William Petersen and Jorja Fox are in negotiations to reprise their roles as Gil Grissom and Sara Sidle, respectively. Petersen is also expected to serve as an executive producer for CSI: Vegas.
For the CSI: Vegas revival, the Crime Lab will reportedly be facing an "existential threat," which provides cause to bring Sidle and Grissom in to lead a new team of crime scene investigators. Furthermore, casting is reportedly underway for several characters who will make up Grissom and Sidle's Vegas forensics team, with producers aiming to cast three of the four characters with people of color.
As for the character descriptions, we have Maxine, who's described as a former basketball coach and scientist now heading the Crime Lab; Josh, a "Level III CSI" who specializes in crime scene construction; Allie, a highly intelligent immigrant with a bright personality; Chris is described as a "private school kid" and a Level II CSI; finally, there's Hugo, the head medical examiner for the Vegas team who enjoys working in the morgue a bit too much.
William Petersen and Jorja Fox's return to the world of CSI is a pretty big deal since they are considered the backbone(s) of the original show. The actors left CSI as series regulars in Season 9 and Season 8, respectively. While Jorja Fox returned as a recurring character later on in the series, William Petersen only came back for the show's two-hour series finale in 2015. In the series finale, Sidle and Grissom were last seen sailing away on a boat together. We can only hope that their return to the revival means that their romantic relationship has remained intact in the years since the original series ended. Well, we can also hope for other returning co-stars, of course.
While this all very exciting news for longtime CSI fans, the revival has not been officially ordered to series just yet. But, considering that the revival has reportedly tapped William Petersen and Jorja Fox to likely reprise their roles is really good news for the show moving forward. I'd wager that it won't be long before we hear back about an official series order, though it's currently unclear how many episodes this event series will be. That said, fans shouldn't expect CSI: Vegas to be an ongoing multi-season revival a la Fuller House or Will and Grace.
Stay tuned to CinemaBlend for updates on CSI: Vegas. While you're waiting for more information about the revival series, be sure to check out our 2020 fall TV premiere guide for more viewing options. And, if you're itching to rewatch CSI in light of this news, all of the episodes are currently streaming on Hulu.
Your Daily Blend of Entertainment News