Big Brother Spoilers: Who Will Be Evicted Week 10?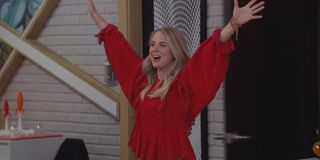 Warning! The following contains spoilers from the Big Brother All-Stars live feeds as of Wednesday, October 14. Read at your own risk!
The Final 4 of Big Brother All-Stars is just around the corner, but first, another eviction must happen. Memphis Garrett and Christmas Abbott are on the block and are at the mercy of voters Cody Calafiore and Enzo Palumbo in regards to whether or not they'll have a chance to win, but which of them is more likely to stay?
There hafs been a lot of back and forth this week, but for the time being, it appears that Memphis Garrett will be the person sent home. Here's what's going on in the house, and why Memphis has become enemy number one after it seemed like Christmas may be the person sent to the jury house.
Memphis Was Always Nicole's Target, But Not Anyone Else's Until Recently
Nicole Franzel has wanted to get Memphis Garrett out from the moment she was crowned Head of Household, but Cody Calafiore wasn't on board. The move angered Nicole, who once again felt like she was being asked to compromise her plan just so Cody could protect someone he was in an alliance with. For Cody, getting rid of Christmas Abbott was ideal, because he had no allegiance to her.
The part he was overlooking, as Enzo Palumbo pointed out, was that Memphis has been a force to be reckoned with in Big Brother All-Stars. Memphis has accomplished everything from a competitive standpoint that Cody has, so even if they were aligned, keeping him would open a scenario in which Cody has to justify his game in a Final 2 against someone who may actually beat him. With that said, Enzo couldn't really drive the point home without compromising his strategy as the middle man, so he played it cool until Cody finally pulled the trigger.
I'm not entirely sure what event triggered Cody Calafiore's change of heart, because even after Nicole Franzel didn't use the veto, he was still on board. Perhaps he realized it would be silly not to take out a big target so close to the end, or he/Nicole/Enzo all believe they stand a better chance of beating Christmas in competitions down the stretch. Whatever the case the script has flipped, and now plans are being laid for how the group proceeds with Christmas in the following week.
The War On Christmas
Cody Calafiore's main goal is to take Nicole Franzel to the Final 2 with him, and his best shot of doing that is with Enzo Palumbo at his side. This means he's going to look to evict Christmas Abbott in the coming week if he gets Head of Household, and likely throw up Enzo as his other nomination to ensure Nicole Franzel gives him the vote he wants. Christmas winning the Head of Household or veto would jeopardize that, obviously, but the odds favor what Cody wants in this scenario.
As an extra means of protection, Cody and Enzo Palumbo have discussed Enzo approaching Christmas for a Final 2. The plan doesn't seem too thought out, but it seems that in the scenario in which Christmas Abbott wins, Cody is hoping her friendship with Enzo will keep Cody safe and send Nicole Franzel home. That's not exactly ideal for Cody, but he still has enough wins over Christmas and Enzo that I can't imagine he'd have trouble winning the votes of the jury house.
In truth, it seems like the only way Christmas Abbott will survive this week is if she captures the Head of Household, or wins the veto. That's really the only way anyone gets guaranteed safety at this stage of Big Brother, so it's not like Christmas needs this information.
Will Memphis' Exit Burn Another Vote For Cody?
I've talked frequently the past month about how Cody Calafiore has continually burned people who believed he had their best interests at heart. Many of those people are in the jury house as we speak, and I have to wonder exactly how they'll feel about that when it comes time to vote. Could Cody lose out to a bitter jury member when put up against any of the remaining competitors, or will they ultimately respect his game over all else?
Cody seems to think the latter, as Memphis Garrett flat out told him he thinks it's respectful to tell a person they're leaving before exiting Big Brother All-Stars, and Cody stayed silent. It's the same story as most people he's worked with before in the house, all while knowing from Sunday on they were the person leaving. Other players like Enzo Palumbo and Nicole Franzel have been more forthcoming with their votes ahead of time, so I have to think that may play some role in voting should either make the Final 2.
Will Big Brother All-Stars Feature A Bitter Jury?
This is exactly what I'm suggesting, though it would be more accurate to say Big Brother All-Stars' cast understands comp wins alone do not a winner make. "Playing the best game" does not always mean winning the most competitions and dictating the flow of the game, though that does count for quite a bit. Cody hasn't been disliked in the house, but the biggest stain on his game has been blatant dishonesty, and it would be foolish to think that won't burn him with at least one or two votes come finale night.
And this is assuming Cody even makes Final 2. Everyone who has made it this far knows he's the biggest target left, and if given the opportunity, it would be foolish for houseguests not to consider cutting him at this stage. I will say that given the predictability of Big Brother All-Stars to this point, I don't see anyone but Christmas taking that shot, so odds are we're going to see Cody in the finale. He may even win Big Brother, though the chaos scenario of Christmas unexpectedly clutching out a win would drastically elevate my odds of rewatching this season.
Big Brother All-Stars airs on CBS Mondays, Wednesdays, and Thursdays at 8:00 p.m. ET. Continue to stick with CinemaBlend for all the latest happening with the show, and for more news in television and movies.
Mick likes good television, but also reality television. He grew up on Star Wars, DC, Marvel, and pro wrestling and loves to discuss and dissect most of it. He's been writing online for over a decade and never dreamed he'd be in the position he is today.
Your Daily Blend of Entertainment News
Thank you for signing up to CinemaBlend. You will receive a verification email shortly.
There was a problem. Please refresh the page and try again.