Why Starring In The Unicorn 'Still Scares' Walton Goggins, Even Though It's Already Renewed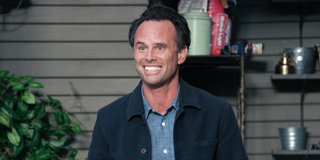 (Image credit: cbs press)
Walton Goggins has played a variety of wild characters in his career so far. From Justified's Boyd Crowder to The Shield's Shane Vendrell to Vice Principals' Lee Russell, Goggins has pretty much done it all. Last season, he took on the role of Wade Felton, a widower raising two daughters, in CBS' The Unicorn. It has been a change of pace for the actor, who tends to favor dramas over comedies. Heading into Season 2, Goggins recently shared why The Unicorn "still scares" him despite its success.
The Unicorn has already been renewed for Season 2 and is headed back to CBS in November. For Walton Goggins, the sitcom is viewed as being a perfect project for this point in his career. Despite that sentiment, however, the actor also revealed the ways in which The Unicorn terrifies him as an actor, regardless of his years of experience. Here's what he told Uproxx after being asked whether he chooses roles based on a big picture plan:
I like that Walton Goggins doesn't really have an etched-in-stone plan for his career since that allows him to go with the flow, which has already taken him to a number of fantastic projects by this point. With regards to The Unicorn, I don't think it's too much of a surprise that this gig still scares the shit out of the actor, considering it's one of his most high-profile TV roles, and deals with complex emotions and relationships even with its more lighthearted outlook. Tackling new things is usually nerve wracking in general, and I think it's admirable that Goggins doesn't mind being shaken up by the challenge.
Walton Goggins went on to add that one of the best pieces of advice he got from a friend was to live life with more yeses than nos. The Unicorn star believes that life is too short to not experience it to the fullest, which totally sounds like Boyd Crowder's outlook. Up next, Goggins said he would love to tackle a horror film, claiming his ideal role in that genre would be to play the guy who's getting chased, as opposed to the bad guy doing the chasing. Who wouldn't want to see that, am I right?
For those missing Boyd Crowder, The Unicorn Season 1 finale gave Justified fans a reunion between Walton Goggins and Natalie Zea. The good news is that it wasn't a one-and-done situation. In fact, Zea will recur as Shannon in Season 2 of the CBS sitcom. I'll bet any amount of money that having Zea around again didn't scare Goggins too badly.
The Unicorn Season 2 is scheduled to premiere on Thursday, November 12 at 9:30 p.m. ET on CBS. For more on what to watch, be sure to check out our 2020 fall TV premiere guide.
Your Daily Blend of Entertainment News
Thank you for signing up to CinemaBlend. You will receive a verification email shortly.
There was a problem. Please refresh the page and try again.