The Unicorn's Walton Goggins Reveals His Two Major Characters That Have Stuck With Him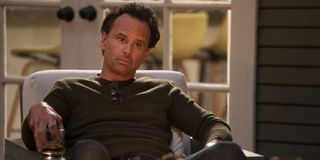 Walton Goggins has had a long and successful career playing some of TV's most memorable characters. Before he landed the role of Wade Felton on CBS' The Unicorn, Goggins appeared on FX's The Shield and a plethora of other series, including Sons of Anarchy. After playing so many fantastic roles, Goggins revealed the two major characters that have stuck with him the most over the years.
With 90 acting credits to his name, Walton Goggins has been a familiar face for years. He's popped up in big-name movies like Quentin Tarantino's Django Unchained, had a notable guest starring role in the fan-favorite sitcom Community ("Cooperative Polygraphy," anyone?), and even played a criminal tech dealer in the MCU's Ant-Man and the Wasp. Goggins was asked which characters he thinks about the most among the many iconic ones he's played. Here's what he told Birth.Movies.Death:
Both are great choices and, dare I say, justified picks. The idea of Walton Goggins playing Vice Principals' twisted Lee Russell and Justified's criminal-turned-born-again-messiah Boyd Crowder at the same time while "having an argument" is indeed hilarious. Perhaps Goggins will one day showcase this bit to fans, but it's enough to know that both characters are near and dear to his heart.
Boyd Crowder is not the only Justified connection that Walton Goggins can hold onto. In March, Goggins excitedly welcomed Justified alum Natalie Zea to The Unicorn, where she had a guest starring role in the Season 1 finale. On Justified, Zea played Winona Hawkins, the ex-wife of Boyd Crowder's enemy Raylan Givens. You can imagine how thrilled Goggins was for Boyd and Winona to be reunited, in a way.
Fans of Walton Goggins' Justified and Vice Principals can watch the actor play Boyd Crowder and Lee Russell on Hulu and HBO, respectively. For now, however, the actor will continue making people laugh on The Unicorn, which was renewed for Season 2 in May.
CBS has not yet scheduled a premiere date for the comedy's sophomore season, but stay tuned to CinemaBlend for updates. For more on what to watch in the coming months, be sure to check our 2020 summer TV premiere guide.
Your Daily Blend of Entertainment News