Hallmark's Jonathan Bennett Reveals Cute Story Behind Learning He'd Be In The Network's First Major LGBTQ Christmas Movie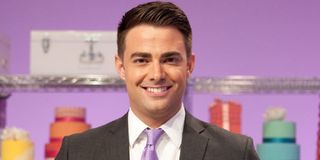 Modern-day TV has never suffered a shortage of holiday movies, particularly those with a yuletide theme. Hallmark, Lifetime, and now Netflix have been pumping out fluffy holiday films like factories fueled by sugar, but while the number of Christmas movies has increased sub-exponentially in recent years, there has been a lack of LGBTQ+ couples. That is slowly starting to change, and Hallmark's Jonathan Bennett recently explained how he felt about starring in the network's first major LGBTQ+ holiday film.
Jonathan Bennett will be starring in his very own Hallmark movie called The Christmas House. In the film, Bennett's character Brandon has already found his "happily ever after" with Brad Harder's Jake. The holiday miracle they're waiting on is actually a confirmation that they can adopt a child, which gives the film a fun twist on the stereotypical plots that Christmassy TV movies adhere to. As it turns out, Bennett was not actually expecting to play a gay man in the film at all. Here's how he told USA Today he reacted to discovering the truth about his onscreen love interest:
It's a really cute story, isn't it? However, I'm not surprised by Jonathan Bennett's own shock at the idea of having a man as a love interest. The Christmas House is, after all, the very first of Hallmark's many holiday movies to actually feature a gay couple in a prominent role. With the network's history of highlighting only straight couples, it's no wonder that Bennett was astonished to learn he had so much in common with his character.
Last year, Hallmark was in the midst of controversy after network execs decided to pull Zola wedding ads featuring a same-sex couple kissing upon receiving their nuptials. The decision sparked some backlash and led to Zola's chief marketing officer to pull the plug on working with Hallmark after the ad got pulled, although that decision was ultimately reversed.
Since then, Hallmark CEO Mike Perry promised that the network would work with GLAAD to ensure better representation of the LGBTQ+ community in its programming moving forward. Fast forward to nearly a year later, and Hallmark is able to celebrate its first holiday movie featuring a gay couple. The Christmas House means a lot to Jonathan Bennett, who is openly gay in real life. In his words:
I think Hallmark's inclusion of The Christmas House is a positive step in the right direction, especially because Jonathan Bennett's casting is representation for the LGBTQ+ community both onscreen and off. I certainly hope the network carries on with this same energy and starts making holiday films with LGBTQ+ couples more regularly.
The Christmas House premieres on Sunday, November 22 at 8:00 p.m. ET on Hallmark. For more on what to watch, be sure to check out our 2020 fall TV premiere guide.
Your Daily Blend of Entertainment News