It's 9-1-1: Lone Star's Rob Lowe Vs. A Volcano In Wild Season 2 Trailer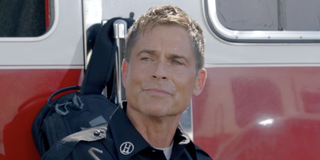 9-1-1: Lone Star is returning to Fox after a long hiatus, and some big changes are in store. That said, Rob Lowe's Owen Strand and Co. will be back in action as usual to deal with emergencies when the second season premieres in January, and Lone Star found a crisis even bigger than anything they faced in the first season. According to a wild new trailer (seen above), Owen and the other first responders will be facing a volcano.
If you had told me a year ago that one of the 9-1-1 series would be pitting its heroes up against a volcano, my money would have been on the original 9-1-1 set in Los Angeles rather than the spinoff set in Texas. Admittedly, that may be because 1997's Volcano was set in Los Angeles and the shot of what seems to be lava bursting upward in the Lone Star trailer looks pretty similar to how Volcano handled its lava, but I just don't think "volcano" when I think of "inland Texas."
Still, if 9-1-1: Lone Star follows in the footsteps of its parent series, then viewers can count on an emergency of pretty epic scale coming out of the lava in Texas. 9-1-1 delivered a devastating earthquake, and even that paled in comparison to the tsunami that was quite literally of Titanic proportions. 9-1-1 hasn't tackled a volcano like this, so Lone Star will deliver a first in the shared universe.
That said, the trailer didn't exactly show flowing lava, so 9-1-1: Lone Star presumably isn't going to go full Volcano to start Season 2. It is worth a laugh that Rob Lowe's Owen Strand is seen saying that he doesn't "want any surprises out there today," only for the footage to move on what is seemingly lava bursting through the bottom of a swimming pool. The 9-1-1 shared universe isn't the place to be to avoid surprises!
If the volcano incident happens in the Season 2 premiere, then the brand new character is going to have a burning hot reintroduction to the life of a first responder. Suits veteran Gina Torres joined 9-1-1: Lone Star for Season 2 to play a former paramedic who is returning to the job after many years away. Torres' Tommy Vega will be a paramedic captain.
Tommy Vega will presumably be stepping up to replace Liv Tyler's Michelle Blake, the paramedic captain from the first season. Season 1 didn't say goodbye to Michelle, but complications of the pandemic that brought the entertainment industry to a halt earlier this year prevented Tyler from returning. Michelle won't be around, but Tommy will fill her shoes.
And hey, if 9-1-1 could bring Connie Britton back after an absence, maybe 9-1-1: Lone Star can do the same with Liv Tyler down the line. If Lone Star maintains the same kinds of ratings and viewership that it won during its first season, then it could have a long run on Fox. The second season will also deliver a West Wing reunion for Rob Lowe, so fans have a lot to look forward to.
9-1-1: Lone Star returns with its apparently lava-tastic Season 2 premiere on Monday, January 18 at 9 p.m. ET on Fox, following the Season 4 premiere of 9-1-1 at 8 p.m. ET. For more of what's on the way in the new year, check out our 2021 winter and spring premiere schedule!
Resident of One Chicago, Bachelor Nation, and Cleveland. Has opinions about crossovers, Star Wars, and superheroes. Will not time travel.
Your Daily Blend of Entertainment News
Thank you for signing up to CinemaBlend. You will receive a verification email shortly.
There was a problem. Please refresh the page and try again.