Agents Of SHIELD Vet Hilariously Plays A Scruffy Batman In New Video To Raise Money For COVID Relief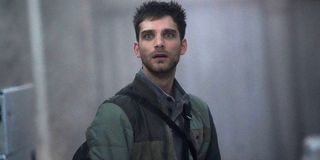 Recently, Agents of S.H.I.E.L.D. producer Geoffrey Colo revealed that the show's cast and crew were teaming up for a special project. This naturally led many fans to speculate on the nature of the new project. While some may be disappointed to learn that it isn't a new show or a table read, the final product is still very creative. The cast and crew of S.H.I.E.L.D. are helping to raise money for the Motion Picture Television Fund's COVID-19 Emergency Fun. And to do so, they established the "Fund the Bat" campaign. This includes a short film that stars S.H.I.E.L.D. vet Jeff Ward as a scruffy Batman, and you have to see it to believe it.
The short film for the "Fund the Bat" campaign was written and directed by Agents of S.H.I.E.L.D. producer Jeffrey Bell and scored by the show's composer, Bear McCreary. The film depicts Jeff Ward as a Batman who has fallen on hard times. Wayne Enterprises has gone bankrupt following the hospitalization of Alfred Pennyworth (who actually ran the company) and some poor business decisions made by Bruce Wayne. As a result, this homeless Dark Knight has been forced to sleep in trees and train on a playground. Check out the hilarious video for yourself down below:
I don't know about you guys, but I think Robert Pattinson may have a bit of competition. The "Fund the Bat" campaign is currently aiming to reach $320 million and, as of this writing, the fund has raised over $5000. As stated on the GoFundMe page, all donations will go to out-of-work carpenters, makeup artists, camera operators, actors, writers, among other industry workers.
Other members of the Agents of S.H.I.E.L.D. family have also stepped up to spread the word about the campaign. Clark Gregg took to Twitter to encourage fans to donate:
Ming-Na Wen also put out a supportive message, asking that fans consider donating. She also teased the short film's new take on Batman:
The Dark Knight himself, Jeff Ward, voiced his sent out his support for the campaign and cheekily suggested that fans listen to Batman:
Casting Jeff Ward as the iconic DC Comics character was a brilliant move on Jeffrey Bell's part. On S.H.I.E.L.D., Ward more than proved that he's capable of dishing out humorous performances. Could we see a web series with more adventures from Ward's washed up hero? Probably not, but it's still a fun idea to consider.
The COVID-19 pandemic has hit many people hard, and those working within the entertainment industry are among the groups that have been affected the most. The Agents of S.H.I.E.L.D. family has never shied away from fighting the good fight, and this project makes them even bigger heroes.
Keep it here at CinemaBlend for more news from the world of TV and movies.
Covering superheroes, sci-fi, comedy, and almost anything else in film and TV. I eat more pizza than the Teenage Mutant Ninja Turtles.
Your Daily Blend of Entertainment News
Thank you for signing up to CinemaBlend. You will receive a verification email shortly.
There was a problem. Please refresh the page and try again.