Grey's Anatomy Fans React To The Latest Dead Character Return, And There Are Tears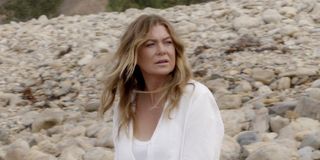 Spoilers ahead for the fourth episode of Grey's Anatomy Season 17, called "You'll Never Walk Alone."
Grey's Anatomy has kept Meredith Grey in dire straits during most of the seventeenth season so far after she collapsed due to a case of COVID-19, but fans have actually had a lot to celebrate despite the heroine potentially circling the drain. Meredith's comatose state allowed Patrick Dempsey to reprise his role as Derek "McDreamy" Shepherd despite Derek's death in Season 11, and now "You'll Never Walk Alone" brought back somebody who has been dead even longer: T.R. Knight's George O'Malley.
007 was back again! Poor George died back in Season 6 after jumping in front of a bus to save a woman's life, and the reveal that George was the John Doe so seriously injured that he was unrecognizable arguably still stands as one of the most shocking reveals of the long-running series. He was back and whole in "You'll Never Walk Alone," and the episode even came up with an explanation for why George looks T.R. Knight's age rather than the age he was when he died in the sixth season.
Understandably, fans had some pretty emotional reactions to George's return, especially when the most popular guess about who would return next seemed to be Chyler Leigh's Lexie Grey. Based on what was happening on Twitter, there were plenty of tears! Check out some of the best reactions to George turning up on Meredith's beach in the latest episode:
You know it's an exciting twist when people are going full-on caps lock at the reveal of a dead character's return, when fans had every reason to expect a dead character's return after a couple of weeks of McDreamy action! I think would be an understatement to say that a lot of viewers were happy to see him again.
Seeing a character who died more than a decade ago had some on social media flashing back to Grey's Anatomy days gone by, when "007" meant something more than just James Bond on the show. As somebody who was watching Grey's back in those days, I can relate to the sobbing at his death back in 2010! Welcome back, George.
George was asking the important questions in his conversation with Meredith, reminding her of who she was back in her early days as a surgeon, surrounded by her original group of friends and a fan of dancing out her feelings when they became too much. There was a lightness to Mer despite her circumstances when she was reunited with George that was lovely to see.
Dying a tragic and brutal death didn't cost George his sense of humor in this version of the afterlife, as he responded to Meredith's confession that she was devastated when he died by reminding her that she and their friends were cracking up at his funeral. But hey, it was affectionate cracking up!
George didn't just use his ability to check in on those he left behind to spy on his own funeral, as he shared with Meredith that she was still important to him even in the great beyond. He still has watched over her. Accurate gif is accurate!
An episode featuring George for the first time in a decade couldn't be all fun callbacks and touching reveals about George watching over the loved ones he left behind. As Meredith has seemingly been contemplating moving on into the afterlife, George answered an important question by telling her that he would have lived if he'd had the option, like Meredith might as her body fights COVID.
Breaking out the Cristina Yang "Somebody sedate me!" gif couldn't be much more perfect for the emotional overload of Meredith having a heart-to-heart with George after so many years, especially with so many callbacks and Ellen Pompeo and T.R. Knight slipping right back into their friendly chemistry despite the passage of time.
Sadly, this may be the end of George on Grey's Anatomy, although Patrick Dempsey did appear in more than one episode of Season 17. Not to wish ill on Meredith or the people who are worrying themselves sick about her at Grey Sloan, but I wouldn't mind if she's comatose long enough to revisit some more characters who have died over the years! See who does or doesn't return with new episodes of Grey's Anatomy, airing Thursdays at 9 p.m. ET on ABC following new episodes of its sister series, Station 19.
Resident of One Chicago, Bachelor Nation, and Cleveland. Has opinions about crossovers, Star Wars, and superheroes. Will not time travel.
Your Daily Blend of Entertainment News
Thank you for signing up to CinemaBlend. You will receive a verification email shortly.
There was a problem. Please refresh the page and try again.