4 Boba And Jango Fett Details Revealed In The Mandalorian's Latest Episode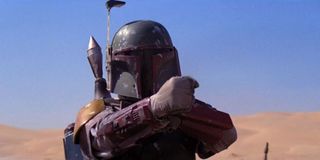 Major spoilers below for those who haven't yet watched The Mandalorian's latest episode, "The Tragedy."
Ever since he first appeared in The Empire Strikes Back, Boba Fett has been one of the more popular characters in all of Star Wars. Maybe it was the awesome armor, maybe it was the mystery surrounding his existence, though it was probably a little from column A and a little from column B. It hasn't been at all surprising that Boba Fett's popularly has led to interest in Mandalorians in a broader sense, but the fact is that the more we've learned about Mandalorians in the Star Wars franchise, the less any of it has made sense. However, the details have now become a bit clearer thanks to the newest episode of Disney+'s The Mandalorian, titled "The Tragedy."
The key pieces of the puzzle are largely delivered by Boba Fett himself, who makes his return in Chapter 14 to get back the armor that was once his. That armor is actually core to many of the elements that just simply didn't make a lot of sense about Boba, and his father Jango Fett. Here's what we now understand about these iconic characters and how they fit into the larger story of Mandalore.
Boba Fett Lives
Let's start with the most important detail that was officially confirmed by the new episode. As simple as it may seem, the fact that Boba Fett is still alive wasn't technically confirmed until now. Because Boba Fett was a clone himself, it was theoretically possible that the face we saw at the close of the first episode of Season 2 belonged to someone other than Boba proper. And that assumes that you even recognized actor Temuera Morrison, who originally played Jango Fett in the prequel trilogy. While Boba Fett had survived in the Star Wars Legends canon, it wasn't confirmed he'd done the same in this universe until now.
Exactly how Boba Fett survived falling down the gullet of the sarlacc was not made entirely clear here, unfortunately. It will be interesting to see if we get any of those details in future episodes. It was also confirmed that the mysterious stranger who approached Ming-Na Wen's Fennec in Season 1, was actually Boba Fett. And while both times we previously saw Boba in The Mandalorian were on Tatooine, he hasn't been limited to that planet, as he still has his ship, Slave I. I suppose it was just parked near Jabba's palace and Boba just went and picked it up when he got out of the sarlacc's maw.
Jango Fett Was A Foundling
Chronologically speaking, the first "Mandalorian" that we meet in Star Wars lore is Jango Fett, the man who was used as the blueprint for the Republic's Clone Army in Star Wars: Attack of the Clones. We'd understood him to be a Mandalorian at the point when we met his young "son" Boba, who is actually just a clone of himself that he'd raised as a son. When we then got to actually visit the planet of Mandalore in Star Wars: The Clone Wars, it was stated that Jango was not actually a Mandalorian, and that he must have stolen his armor.
Instead, the truth is that Jango Fett was apparently a Mandalorian in the same way that the main character of the series is one: he wasn't born to Mandalorian parents, but was adopted by Mandalorians. This is how he came by the Mandalorian armor, which was gifted to him from the people he grew up with. So Jango Fett wasn't a Mandalorian in the same way the Bo Katan is, that much is now clear, but he was still raised among their ways. That's not to say Jango Fett was a Child of the Watch, however.
Boba Fett Isn't Really A Mandalorian
Some people are born Mandalorian, some have Mandalorian thrust upon them, but Boba Fett doesn't really fit either of those. When our hero Din asks Boba if he is Mandalorian, he doesn't technically say no, but he also clearly isn't saying yes. He said he's just a "simple man," like his father was before him, and that he gives his allegiance to no one. Boba Fett, by being the clone of a man who was not born Mandalorian, is not one by blood, and if he had taken the famed creed, he would have said so. Thus, he's not Mandalorian, unless there's a third way to achieve the distinction that we haven't learned yet.
It's also unclear if Jango Fett was ever actually a Mandalorian himself. He had no problem being seen without his helmet, which makes it appear that while Jango may have been raised a Mandalorian like Din, he was not a Child of the Watch. He may have been simply taken in by people from Mandalore. Of course, it's also possible that Jango was raised in the creed, but then renounced it for his own reasons later in life. And there is reason to believe that this could be the case, because...
Boba Fett Still Follows Some Of The Creed
While Boba Fett may not the follow the way of the Mandalore the way Din Djarin does, that doesn't mean he's entirely ignorant of it, or that it doesn't matter to him at all. Boba Fett promises to keep The Child safe in exchange for his armor, and while Din never technically agrees to the deal, Boba promises to hold up his vow at the close of the episode, at which point he's reacquired his armor. It could be that Boba Fett just takes his word very seriously, but we also know that following through on a deal, even if it means taking extreme measures, is part of the Mandalorian Creed. So while Boba may not technically be Mandalorian, he still follows some of the practices.
Since it appears that Boba Fett will be hanging around for a little while, we may get some more information in the future about exactly where Boba Fett sees himself in relation to being a Mandalorian. Does he follow the creed, even if he never personally took it? Did his father simply teach him it was important to keep his word? If he did, was it the Mandalorians who taught Jango that?
Considering the importance that Mandalore played in The Clone Wars and Rebels animated series, this particular Disney+ show, and, of course, the first two trilogies, we had a lot of pieces of information about Mandalorians and Boba Fett that didn't really seem to fit together. Now we have a much better understanding of how the most famous Mandalorian fits into Star Wars, even if the reality is he never actually was a Mandalorian to begin with.
New Mandalorian Season 2 episodes drop on Disney+ every Friday at 3:01 a.m. ET. While waiting to see what happens next, check out our Fall 2020 TV premiere schedule and our Winter and Spring 2021 TV guide to see what new and returning shows are popping up soon.
CinemaBlend's resident theme park junkie and amateur Disney historian. Armchair Imagineer. Epcot Stan. Future Club 33 Member.
Your Daily Blend of Entertainment News
Thank you for signing up to CinemaBlend. You will receive a verification email shortly.
There was a problem. Please refresh the page and try again.