Jim Parsons Had Some Blunt Thoughts About The Office When He Auditioned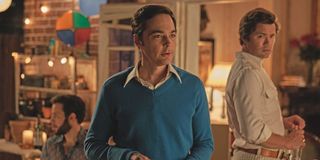 The Big Bang Theory helped launch Jim Parsons into mega-stardom, and after 12 seasons playing Sheldon Cooper on the sitcom, Parsons has moved on to other (more dramatic) roles. Long before he joined the cast of the hit CBS comedy series, however, Parsons auditioned for NBC's The Office. Suffice it to say that he had some pretty blunt feelings about the NBC series at the time that seem hilariously naive in hindsight.
In addition to being in front of the camera in recent hits like Netflix's Hollywood and The Boys in the Band, Jim Parsons is executive producing former Big Bang Theory co-star Mayim Bialik's new sitcom Call Me Kat. During Fox's TCA panel for Call Me Kat, Parsons shared that he'd auditioned early on for a role in the U.S. adaptation of The Office. That sounds pretty cool, right? As it turns out, Parsons didn't think very highly of the sitcom's concept back then. Here's what he had to say about it:
Obviously, Jim Parsons was not cast in The Office after that audition, and that may have been for the best considering his negative feelings about the concept that helped popularize the mockumentary format in a huge way. The NBC sitcom went on garner acclaim, several award nominations and wins, and consistently ranks at the top of Netflix's charts. That's not too shabby for a "stupid" office show, eh?
Jim Parsons is now working on Call Me Kat, which is itself a U.S. adaptation of the UK show Miranda. It's kind of ironic now, but I think enough time has passed since Parson's The Office audition that his feelings on bringing British sitcom concepts to U.S. audiences has probably changed. Plus, he gets to work with friend and former co-star Mayim Bialik again, so it seems to have worked out.
My guess is that if Jim Parsons had actually joined the cast of The Office, he would not have later landed the role of The Big Bang Theory's Sheldon Cooper. It's hard to say which path the actor's career might have taken, but The Office was a big enough hit that I'm sure Parsons would have been just fine career-wise regardless.
Jim Parsons didn't reveal which The Office character he auditioned for, so your guess is as good as ours. My gut tells me that Parsons might have auditioned for Dwight, but that's just speculation on my part. Maybe he will reveal a bit more information about the audition down the line, but we'll just have to wait and see about that.
The Office is currently streaming on Netflix until the end of this year before moving over to NBC's Peacock service. Meanwhile, all twelve seasons of The Big Bang Theory are available to watch on HBO Max. For more on what's being released to network TV, cable, and streaming in the coming months, be sure to check out our 2021 winter and spring schedule.
Your Daily Blend of Entertainment News
Thank you for signing up to CinemaBlend. You will receive a verification email shortly.
There was a problem. Please refresh the page and try again.