Why Netflix's Selena Series Wanted To Separate Itself From The Jennifer Lopez Movie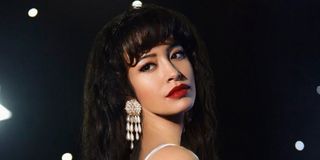 The late Tejano singer Selena Quintanilla is getting her story retold for a new generation of viewers. Two years after it was announced, Selena: The Series is finally available to stream on Netflix. For those who may have already seen 1997's Selena starring Jennifer Lopez, the Netflix series may not look all that different at first glance. However, showrunner Moises Zamora recently explained why he wanted to distinguish Selena: The Series from the film.
Selena Quintanilla's life was tragically cut short in 1995 when she was killed by Yolanda Saldívar, the late singer's fan club president and boutique manager. The Jennifer Lopez film covered various aspects of Selena's life — as a child singing in her family's band to a Grammy-winning artist. However, Moises Zamora reveals there was a conscious attempt to separate Selena: The Series from the 90s movie. Here's what he told Deadline:
That is definitely a change from the Selena film, which also covered her life as a child, but didn't focus too much on it before moving on to her later years. That makes sense considering the film was only about two hours long and there's only so much of Selena's story that can be told in that timeframe.
Such is not the case with Selena: The Series, which consists of nine episodes and has the opportunity (and the time) to expand upon moments or milestones from Selena's youth. Here's how Moises Zamora put it:
Moises Zamora added that the first half of Selena: The Series was really a family drama because the late singer's family played such an important role in her life and in helping shape her career. However, because of the series' episodic nature, Selena developing into her own person is further explored in later episodes of Season 1.
Selena: The Series is currently available to stream on Netflix. For more on what to watch in the coming months, be sure to check out our 2021 winter and spring TV premiere guide.
Your Daily Blend of Entertainment News