Netflix's Selena: The Series Creator Talks About His Decision To Cast Twilight Actress As The Lead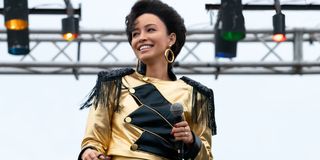 Selena Quintanilla-Pérez was an icon that was tragically taken from the world too soon, but Netflix has given us Selena: The Series which is a beautiful celebration of her life and family. Part 1 of the series, which drops December 4, shines a bright light on Mexican-American culture and Selena's journey to stardom. In an interview with CinemaBlend, creator of Netflix's Selena: The Series, Moises Zamora, spoke about casting Twilight alum Christian Serratos as Selena.
Found very early in the process, Christian Serratos could not be more perfect for the role. Her radiance leaps off the screen and she brings an indescribable light to the storytelling. Creator Moises Zamora saw this within Serratos the moment he met her. Here's what Zamora shared of their first meeting and the subsequent casting:
Sounds like this casting was like love at first sight, and a perfect match. Casting director Carla Hool really nailed it with every single role. Selena: The Series is a family drama that offers much more insight than the 1997 film did into the lives of Selena's parents, brother and sister, beyond how they relate to her. We also meet some of Selena's high school friends, as well as the other members of the band and her siblings' significant others. The whole cast compliments one another as a unit and feels completely authentic.
One of the most beautiful themes of Selena: The Series is family first. The Quintanillas are a close-knit group, which is both a tribute to Mexican-American culture and the leadership of patriarch Abraham (played bey Ricardo Chavira). The story begins with Abraham discovering Selena's talent, creating a band, and then turning that into the family business. The filmmakers worked with the real Quintanilla family to preserve the authenticity of the story. Elaborating upon this, Moises Zamora said the following:
Showcasing the Mexican-American culture was obviously important to the filmmakers, and it was done beautifully. Moises Zamora has even built a film and television production company called Zone One that is focused on elevating stories of people of Latin-American, Indigenous, and Afro-Latin descent for a global audience. Their vision is to curate projects from all over the media spectrum. Zamora said this of creating Zone One:
We all deserve the chance to chase our dreams, and Selena is one inspiring story of someone who accomplished that. See how she got started and what she overcame along the way in Part 1 of Selena: The Series, now streaming on Netflix (opens in new tab). This show will give you all the feels, so here are some more Netflix options if you need a laugh after.
Your Daily Blend of Entertainment News
Obsessed with Hamilton and most things Disney. Gets too attached to TV show characters. Loves a good thriller, but will only tolerate so much blood.