Young Sheldon Suspends Production After Positive COVID Test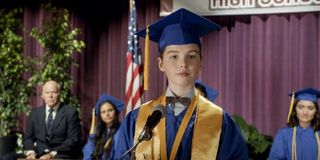 COVID-19 forced productions to shut down in March, leaving hundreds of films and TV shows stuck in limbo for several months. However, after implementing rigorous health and safety protocols — masks, required testing, quarantine, and more — to protect the casts and crews from contracting the virus, multiple TV shows went back to filming. Unfortunately, Young Sheldon has had to suspend filming on its fourth season following a positive COVID test.
On Friday, Young Sheldon halted shooting after a member of production tested positive for COVID-19. According to Deadline, the unnamed team member was asymptomatic (meaning they did not have visible signs of infection) and is currently being quarantined. However, the CBS sitcom, a spinoff of the hit show The Big Bang Theory, shut down production for the day to ensure the rest of the production team and cast's safety.
It's unclear how long filming on Young Sheldon's fourth season will be paused, but the show's producers are reportedly figuring out when (and maybe if) the series can resume filming at some point next week. Considering how fast the sitcom may return to filming, it's possible that Young Sheldon's production schedule won't be too heavily affected.
Despite several series' return to production, filming has been anything but business as usual. The ongoing pandemic has posed several challenges for TV shows behind the scenes, and productions have had to contend with each of them along the way. This actually marks the second time Young Sheldon has had to suspend production over a positive COVID test. Thanks to constant testing, however, it's become fairly easy to isolate anyone who may have been diagnosed to stop the risk of further infection on the set.
What's more, Young Sheldon isn't even the first series to pause production due to a positive COVID-19 test. Chicago Fire suspended production after several people tested positive, and The Flash also pressed pause after a team member contracted COVID. Meanwhile, two of The Good Doctor's cast members tested positive during production, though it hasn't had a major impact on the shooting schedule as far as we know.
Young Sheldon resumed filming in September, and new Season 4 episodes began airing on CBS in early November. The Season 4 premiere had a small crossover with its parent show, with The Big Bang Theory's Mayim Bialik returning for a voiceover cameo role as her character, Amy Farrah Fowler. During a scene that involves a narration by the older Sheldon (still played by Jim Parsons), Bialik's Amy interjects with her own commentary about the naming of their son, Leonard Cooper.
Stay tuned to CinemaBlend for updates on when Young Sheldon will resume production on its fourth season. In the meantime, a new episode of Young Sheldon Season 4 is set to air on Thursday, December 17 at 8:00 p.m. ET on CBS. For more on what new and returning TV shows are being released over the next few months, be sure to check out our 2021 winter and spring schedule.
Your Daily Blend of Entertainment News