Did The Big Bang Theory Fans Discover A Continuity Error In Young Sheldon?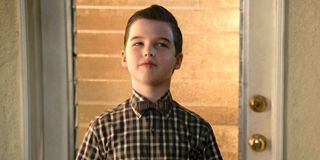 Some productions are bound to have some continuity errors. Look no further than The CW's superhero shows, all of which exist on the same Earth and are awash with occasional continuity errors. Eagle-eyed fans were even able to spot a fun continuity error in Disney's Frozen, further proving this sort of think won't get by the most dedicated of viewers. Such was the case for one network show recently when one fan discovered a potential continuity error between The Big Bang Theory and its spinoff series Young Sheldon.
A Reddit user posted about one error they found while watching a Season 3 episode of Young Sheldon. In the episode, Iain Armitage's Sheldon goes to the mall with Paige and his twin sister Missy. When he shows them the contents of his backpack, one of the items inside is a whistle, which he says he'll use should he get lost.
The fan compares this episode with one from The Big Bang Theory, in which Jim Parsons' Sheldon also reveals that he has a whistle in his backpack. In this instance, however, Amy proudly states that she's the one who gifted Sheldon the whistle. Wait, what? How can Sheldon have the same whistle on Young Sheldon if The Big Bang Theory reveals that it was given to him in adulthood?
I think it's great that someone was able to spot the whistle. Of course, it could very well be a continuity error and the Young Sheldon writers may have forgotten that he didn't have a whistle until much later in life. Conversely, a couple of the comments on the Reddit post suggest that Sheldon may have simply had two whistles at different points in time, leaving both series' continuities intact.
In the grand scheme of things, this potential continuity error isn't going to impact either Young Sheldon or The Big Bang Theory's storylines. However, I think it's fun for fans of both shows to catch this stuff because it certainly makes things interesting, both while viewing and in social places on the Internet afterward.
That said, it's worth noting Young Sheldon co-creator Steve Molaro previously stated that he's willing to break The Big Bang Theory's continuity if it creatively serves its prequel spinoff. At the end of the day, the biggest risk is that the prequel would stagnate and he doesn't want that to happen. However, Molaro is "fairly loyal" to the original sitcom's canon. I'm sure that if there are to be any potential changes to Young Sheldon, it will more than likely stay true to The Big Bang Theory's continuity.
Young Sheldon Season 4 went back into production in September. However, filming was suspended on October 9 following a positive COVID-19 test result. The season is currently set to premiere on Thursday, November 5 at 8:00 p.m. ET on CBS.
You can watch the first three seasons of Young Sheldon and all twelve seasons of its parent show on HBO Max. Stay tuned to CinemaBlend for updates on Young Sheldon and be sure to check out our 2020 fall TV premiere guide for more on what to watch.
Your Daily Blend of Entertainment News
Your Daily Blend of Entertainment News
Thank you for signing up to CinemaBlend. You will receive a verification email shortly.
There was a problem. Please refresh the page and try again.