11 Shows To Watch If You Love The Big Bang Theory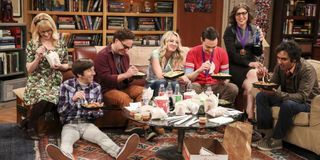 It has been more than a year since The Big Bang Theory aired its final curtain call, and some of its biggest fans are still struggling to recover from the loss. Fortunately, there are plenty of shows that may be able to help fill the void left by Chuck Lorre and Bill Prady's hit that are currently available to watch on TV.
The Big Bang Theory, which ran for 12 seasons on CBS to be exact, follows scientists and good friends Leonard (Johnny Galecki), Sheldon (Jim Parsons), Howard (Simon Helberg), and Raj (Kunal Nayyar) and the much-needed evolution their social lives undergo when they meet a beautiful waitress named Penny (Kaley Cuoco). Their romantic lives change quite a bit, too, leading to the marriages of Howard and Bernadette (Melissa Rauch), Penny and Leonard, and Sheldon and Amy (Mayim Bialik). It proved to be an endearing exercise in what happens when brains meets beauty… but also with brains, of course.
We empathize with those who miss all the intercultural mingling, romantic wit, and pop culture references of The Big Bang Theory. A solution to the problem could either be to rewatch all 281 episodes on HBO Max or try watching these 11 other shows of a somewhat similar nature that you can stream or watch while they are still on their current run on regular television… if you still even have that option anymore, that is.
Two And A Half Men (2003-2015)
A womanizing jingle writer (Charlie Sheen) and his neurotic younger brother (Jon Cryer) are forced under one roof when the latter becomes a divorcee with partial custody to his son (Angus T. Jones) in this top-rated sitcom also co-created by The Big Bang Theory's Chuck Lorre. While Two and a Half Men is easily the more cynical and raunchy of the two long-running sitcoms about mismatched pairings, it bears some of funniest moments in recent CBS history. Whether or not that includes Ashton Kutcher's stint following Sheen's awkward exit is up to you. Stream Two and a Half Men on Peacock (starting July 15).
How I Met Your Mother (2005-2014)
Like The Big Bang Theory, this is another hit CBS comedy from the Oughts following the lives of a group of quirky friends and their romantic escapades, this time in New York CIty, but, what sets it apart from Big Bang and other sitcoms about a group of pals is its unique structure. Framed as a series of the lead character's flashbacks that he is sharing with his children in 2030, How I Met Your Mother is an irresistible, heartwarming, and kind devastating (to be honest) story complete with all the typical life lessons you would expect from your parents, but with clever twist in each one. Stream How I Met Your Mother on Hulu here (opens in new tab).
New Girl (2011-2018)
Excluding a mere few specific details from the plot description of this quirky Fox sitcom (single male friends' lives are changed forever after meeting a lively, newly single woman) to match the same basic concept of The Big Bang Theory. Yet, on the contrary, the comedy of New Girl is not rooted in what sets its cast of roommates apart (excluding a few characteristics that occasionally put them at odds), but more about what brings them together as a close knit family against all odds, such as ending up in bed together. Stream New Girl on Netflix here (opens in new tab).
Community (2009-2015)
Speaking of close knit families, that is essentially what becomes of the astonishingly random group of students on this cult NBC (and later Yahoo!) sitcom that, like The Big Bang Theory, includes many scenes that take place at college. Not to mention, pop culture references are also a frequent occurrence on Community, but instead of just dropping them in conversation, creator Dan Harmon roots them deep into the DNA of the series, turning the campus of Greendale into a Bruce Willis blockbuster one episode, Law & Order-esque investigation in another, and, at one point, even a stop motion animated Christmas special. Stream Community on Netflix here (opens in new tab) or on Hulu here (opens in new tab).
Comic Book Men (2012-2018)
Pop culture references, particularly in relation to the same comic book characters the The Big Bang Theory cast often gushes over, is an especially frequent occurrence in conversation on this unscripted AMC series. In fact, talking about superheroes is, more or less, the point of Comic Book Men, which features filmmaker Kevin Smith and the employees of his New Jersey comic book shop (either in a podcast studio or the shop itself) discussing odd customer requests, run-ins with legends like Stan Lee, and their general love for the medium. Stream Comic Book Men on Amazon Prime here (opens in new tab).
Eureka (2006-2012)
In addition to being a character study on the stereotypical geek, The Big Bang Theory is an examination of how a person of average intelligence would fair if her social life consistent predominantly of people who discuss the laws of physics for a living. Eureka, which ran for five seasons on Syfy, is based on a similar concept, but more in the vein of primetime soap opera with a sci-fi edge and told from the perspective of a U.S. Marshall (Craig Ferguson) reinstated as sheriff to a community of the world's greatest thinkers, whose groundbreaking innovations often becoming more trouble than they are worth. Stream Eureka on Amazon Prime here.
Silicon Valley (2014-2019)
Contrary to the misadventures that go on in Eureka, the short-staffed development team behind start-up Pied Piper are always vying for a new innovation that will lead them out of trouble and at the top of the food chain in the highly demanding tech industry. Created by Beavis and Butt-Head mastermind Mike Judge, and based on his own years as a computer programmer in the 1980s, Silicon Valley is yet another hilarious comedy following a diverse group of intelligent friends constantly competing, quite immaturely, to be the smartest person in the room with never a clear winner. Stream Silicon Valley on HBO Max here (opens in new tab).
Drake & Josh (2004-2007)
Speaking of immaturity, no one made childish antics look cooler in the early mid-2000s than Drake Bell and Josh Peck, cast members of Dan Schneider's Nickelodeon sketch comedy The Amanda Show, who earned their own very popular series in which they played a pair of teenagers with nothing in common but the marriage of their respective parents. However, much like how the characters on The Big Bang Theory evolved from unlikely friends to nothing short of family, the titular duo of Drake & Josh went from mismatched step-siblings to inseparable brothers. Stream Drake & Josh on Hulu here (opens in new tab).
Dexter's Laboratory (1996-2003)
Someone who had a serious issue with sibling rivalry, however, was the title character of Samurai Jack creator Genndy Tartakovsky's Dexter's Laboratory (voiced by the late Christine Cavanaugh, also Chuckie Finster on Rugrats), who is a brilliant and inexplicably European-accented child prodigy, constantly distracted from his experimental projects by his overly hyper sister Dee Dee. However, in addition to having a reversed concept of one incredibly smart person surrounded by people of lesser intelligence, the real reason I have to justify comparing this Cartoon Network staple to The Big Bang Theory is a brilliant piece of fan art found on Reddit that sheds light on show similar characters are in appearance alone. Stream Dexter's Laboratory on HBO Max here (opens in new tab).
The Conners (2018-Present)
Today, Johnny Galecki's best known characters are Rusty Griswold in National Lampoon's Christmas Vacation and, of course, Leonard Hofstadter in The Big Bang Theory, but in between those now iconic roles, he played David Healy, the boyfriend and eventually the husband of Darlene Conner (Sara Gilbert) on Roseanne. When he was not filming the final season of Big Bang, Galecki reprised his role from the iconic sitcom on its recent revival, later renamed The Conners after Roseanne Barr's forced exit, which follows the struggles of a working class family: a once revolutionary concept that still manages to entertain today. Stream The Conners on Hulu here (opens in new tab) or watch it Tuesdays at 8 p.m. CST on ABC.
Young Sheldon (2017-Present)
Of course, no character from The Big Bang Theory is more iconic than Sheldon Cooper, whose "unique" personality, as portrayed to Emmy-winning glory by Jim Parsons, and extremely popular catchphrase, "Bazinga!," eventually earned him a prequel spin-off of his own that sheds light on what the physicist was like as a child, as portrayed by Iain Armitage. Narrated by Parsons and once again co-created by Chuck Lorre, Young Sheldon (which will soon be available on HBO Max) reveals how the pint-sized prodigy took on the typical struggles of an adolescent, barely made easier by his well-meaning parents and his own social inadequacies. Stream Young Sheldon on CBS All Access here (opens in new tab) or watch it on Thursdays at 8 p.m. CST on CBS.
What do you think? Have we confirmed The Big Bang Theory in its similarities to these shows, or should I be tested? Let us know in the comments and be sure to check back for information and updates on the beloved, geektastic sitcom, as well as plenty more recommendations of movies or TV shows to watch, here on CinemaBlend.
Jason has been writing since he was able to pick up a washable marker, with which he wrote his debut illustrated children's story, later transitioning to a short-lived comic book series and (very) amateur filmmaking before finally settling on pursuing a career in writing about movies in lieu of making them. Look for his name in just about any article related to Batman.
Your Daily Blend of Entertainment News
Thank you for signing up to CinemaBlend. You will receive a verification email shortly.
There was a problem. Please refresh the page and try again.