Cobra Kai Season 3 Rumored To Be Bringing Back Two Major Karate Kid Characters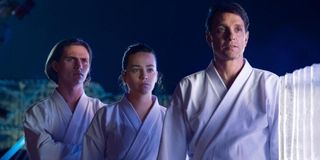 It's been well over a year since Cobra Kai fans laid their eyes on a new episode of the show, and the wait has been difficult, to say the least. When we last left the series, Miguel was on life support, while both Johnny and Daniel were left to deal with the consequences of starting rival karate dojos. Although plot details on Season 3 are being kept tightly under wraps, fans have been speculating. Now, a new rumor has surfaced and, if it proves to be true, it could see two major Karate Kid characters join the show.
The rumor claims that Cobra Kai Season 3 will feature the returns of The Karate Kid Part II's Tamlyn Tomita and Yuji Okumoto, who played Kumiko and Chozen, respectively. As the Murphy's Multiverse report points out, the show is reportedly heading to Okinawa, which is where both characters come from. Not only that, but some believe it was Chozen who pinned down Daniel in that Season 3 teaser.
1986's The Karate Kid Part II took Daniel LaRusso and Mr. Miyagi to Okinawa, where Miyagi ai visited with his ailing father. While there, the two also found trouble in the form of Miyagi's friend-turned-enemy Sato.
Kumiko was established as the niece of Miyagi's former love interest, Yukie, and the young woman became good friends with Daniel. Eventually, the two developed feelings for each other and began a romance. Despite this, Kumiko was written out of The Karate Kid Part III, with Daniel revealing that she decided to remain in Okinawa to join a dance company.
Chozen was the arrogant nephew of Sato, who agreeed with his uncle's belief that Miyagi was a coward for leaving Okinawa ahead of a fight between the two. After Daniel exposed his unfair market dealings, Chozen developed a grudge against him. His disdain for LaRusso only increased after Sato disowned him for not helping Daniel save a villager during a massive storm. In the end, Sato crashed the O-bon festival and challenged Daniel to a duel. Ultimately, Daniel was victorious and spared Chozen's life in the process.
Bringing back Kumiko and Chozen makes a lot of sense, especially when you consider Season 3's exploration into Okinawa. Ralph Macchio previously explained that the key franchise location is going to be important to the new episodes, as both Daniel and fans are going to learn secrets from the past. I think there's even a chance this could change the way Daniel views his relationship with Mr. Miyagi.
So far, Cobra Kai has found great ways to expand on the lore that was established in the original Karate Kid films. While we still have to wait and see if these returns are true, there is certainly evidence to suggest that they will show up at some point.
Cobra Kai Season 3 makes its way to Netflix on January 8, 2021.
Covering superheroes, sci-fi, comedy, and almost anything else in film and TV. I eat more pizza than the Teenage Mutant Ninja Turtles.
Your Daily Blend of Entertainment News
Thank you for signing up to CinemaBlend. You will receive a verification email shortly.
There was a problem. Please refresh the page and try again.