Cobra Kai Season 2 Ending How It Sets Up Season 3 On Netflix, Explained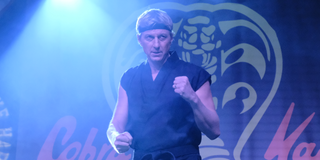 (Image credit: Guy D'Alema / Netflix)
Warning: SPOILERS for Cobra Kai's Season 2 finale are ahead. Proceed with caution!
A while after getting off to a spectacular start in the ratings on YouTube Red/Premium, Cobra Kai shifted streaming services to become a Netflix original for its third season. The Karate Kid sequel series landed on the streaming giant towards the end of August, which has brought a heightened buzz to Cobra Kai's spectacularly speculation-inducing Season 2 ending. How does it set up Season 3?
The answer is complicated and elaborate. Nothing can ever really be the same after Season 2's ending. Cobra Kai saw its teenage set of main characters converge in a war of wills, as everything that Johnny and Daniel taught their students got put to life-altering use. Mr. Miyagi would probably have some thoughts about what occurred. Here is what happened.
How Season 2 Ended
What happened in the Season 2 finale of Cobra Kai primarily played off what went down in the penultimate episode, namely Sam and Miguel kissing; a moment brought on by Sam learning that Robby had lied about Mr. Miyagi's Medal of Honor. At the same time, Miguel's feelings for Sam boiled to the surface despite his budding relationship with the combative Tory.
The kiss ended up having a ripple effect on Season 2's ending that no one (including this Cobra Kai viewer) could have foreseen. At school, Tory commandeered the PA system to announce that she knew about what happened at the party (without getting into the details). Tory then declared that she is coming for Sam.
On that note, Daniel LaRusso's offspring headed out of class to square off with Tory. Upon coming head-to-head, Tory revealed Sam and Miguel's kiss to everyone, including a hurt Robby. Before long, the girls began fighting, with Robby trying to break it up before Miguel misinterpreted Robby's actions. This led to to Miguel and Robby having an unofficial re-match.
Like a wave crashing through the halls of the high school, a brawl broke out, consuming nearly every student. Cobra Kai's extraordinarily well-coordinated fight came to a head with Demetri besting Hawk, and Sam getting the better of a spikey-bracelet-armed Tory. Miguel and Robby's battle edned far more tragically, setting up a cliffhanger.
Season 2's Huge Cliffhanger
The fight between Robby and Miguel is the last one to come to a riveting climax. Miguel ended up besting Robby. Before he "finishes him off," Miguel recalled Johnny's words about showing mercy to contrast to Kreese's alarming call to arms. In the end, Miguel decided to show a still-incensed Robby mercy.
It turned out to be a potentially fatal mistake as Season 2's ending comes into focus. Miguel apologized and let up on Robby, who retaliated by furiously kicking Miguel over the hall railing. In one of Cobra Kai's most gut-wrenching scenes, Miguel crashed over and lands on his back right on the railing before falling onto the stairs.
Robby ran off as an ambulance was called for Miguel. At the hospital, the doctor shared that the next 24 hours will be critical. Miguel is in a neck brace, his fate hanging in the balance. Robby is nowhere to be seen, Sam is inconsolable and Johnny is devastatingly shattered. Cobra Kai left its Season 2 ending with a massive cliffhanger for Season 3 to resolve.
Will Miguel survive his horrific fall? If so, how injured will he be, and can he regain his previous fighting prowess? Will Robby go to jail for hurting Miguel? Then there is the drama between Johnny and his former mentor, Kreese. Still reeling from Miguel's status, Johnny goes to Cobra Kai's dojo, where he finds Kreese training his students. Kreese informs Johnny he owns the building now, reclaiming Cobra Kai.
How Miguel's Fate Sets Up Season 3
Miguel's mom, Carmen, had been growing closer to Johnny. The two went on a date, and she encouraged Johnny to let go of his animosity towards Daniel, at last. Things were great until Robby went and ruined it by nearly killing Miguel. At the hospital, Carmen confronted Johnny with a verbal beatdown that made Daniel's notorious knockout kick in The Karate Kid feel like a light slap.
She blamed Johnny for encouraging Miguel to want to fight, and the changes that followed for her son. Johnny is henceforth shattered over Miguel and Carmen swearing she never wants to see him again. Cobra Kai's Season 2 ending has a drunk Johnny going to the beach, throwing a bottle at his car and walking off with his phone in the sand.
It is worth mentioning that Cobra Kai will win with whatever route it takes. That is what makes the now-Netflix show so incredible. It sets up storylines that, no matter the angle it decides to go in, lead to a prosperous array of gratifying directions. I have a feeling for where Cobra Kai could take it, but Netflix subscribers will have to wait and see.
One more thing: Johnny's phone lit up. Ali sent him a friend request. Whether or not Elisabeth Shue finally shows up in Cobra Kai Season 3, Miguel's fate is the most important question looming over the upcoming installment on Netflix. Miguel could be permanently injured. Or he could be spared, paving the way for him to recover eventually. There are countless story opportunities at Cobra Kai's disposal.
What It All Means For Season 3
Miguel could recover, and Season 3 might find him seeking out Johnny to help him rehabilitate, with an eye on defending his championship. Johnny is now without the show's titular dojo, which could lead him anywhere at this point. Cobra Kai may see Johnny reclaim the dojo from Kreese or go another route entirely.
Could Cobra Kai witness Daniel and Johnny finally put their feud aside for good and join forces to take down Kreese's captured version of Johnny's resurgent dojo? Miguel's near-death experience could propel Johnny and Daniel to a truce that leads to another All Valley showdown. Will we get a recovered Miguel coached by Johnny and Daniel? The best of both worlds united against a shared foe? I like it.
Let a woman dream! After all, I cannot fathom Cobra Kai killing off Miguel. He is the heartbeat of the show. If Miguel were to die, it would be a horrible emotional blow. The series could not recover from such a tragic twist, in my opinion. The teaser for Season 3 hinted at Daniel learning more about Mr. Miyagi than he realized.
Could that knowledge lead him to open his heart a bit more to Johnny? Maybe. The ending of Cobra Kai Season 2 opens up a wealth of possibilities, as Miguel's fate ties together the past and the future. Hopefully, Miguel and Johnny will reunite, and Johnny wins back Carmen. I ship them big-time. Do you think there is still hope for them? Vote in the poll below!
This poll is no longer available.
Stay tuned to see what happens. I do not want to wish my life away. However, I need to know how Cobra Kai will handle its Season 2 ending in Season 3. Robby should have to answer for what he did to Miguel, and that is not the only hanging plot thread to consider. One thing is sure. To me, there is no better show to stream on Netflix.
To me, there is no better show to stream on Netflix. Check out the first two seasons of Cobra Kai (including that jaw-dropping Season 2 ending) on Netflix. The show is one of 2020's new arrivals on the streamer. Season 3 is slated to arrive well after this fall's new arrivals for a 2021 release date.
Your Daily Blend of Entertainment News
Like a contented Hallmark movie character, Britt happily lives in the same city she grew up in. Along with movies and television, she is passionate about competitive figure skating. She has been writing about entertainment for 5 years, and as you may suspect, still finds it as entertaining to do as when she began.