Why Cobra Kai Should Bring In Hilary Swank's Julie Pierce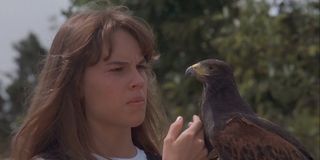 Cobra Kai Season 3 is on its way to Netflix, and with its arrival comes another chapter in the lives of Johnny Lawrence and Daniel LaRusso. It should be an exciting season for both characters, as their feud with each other has created quite a mess for both of them and the teens they've trained over the past couple of seasons.
With a lot of things in flux for our two main men, I have to question if it isn't time to bring a lady into the mix to shake things up. No, I'm not talking about Ali Mills, but rather another prominent female character in The Karate Kid franchise who still has yet to appear. The Next Karate Kid Julie Pierce still has yet to appear in this revival, and I think there are plenty of reasons to bring Hilary Swank's character into the mix in a future season if Cobra Kai has an opportunity.
Wait, Who Was Julie Pierce?
If you stopped watching The Karate Kid movies when Daniel LaRusso wasn't the main character anymore, you probably wouldn't know who Julie Pierce is. The Next Karate Kid follows Julie Pierce, an orphaned troublemaking teen whose grandfather was Mr. Miyagi's commanding officer in WW2. Miyagi, seeing Julie's grandmother is struggling with keeping her in line, offers to briefly take charge of the girl while she attends her high school.
After Julie rescues herself from nearly getting hit by a car, Miyagi learns that she was taught karate by her father. Miyagi sees Julie's talent and an opportunity to further develop her skills in karate as an outlet. She uses those skills in order to take on a group of trouble-making boys at her school, as well as their security instructor whose masochistic values create a gang of bullies with training to really do some damage to whoever their target is.
The movie was far from critically acclaimed, but it's widely recognized as a breakout role for Hilary Swank, and one that furthers the mythology of The Karate Kid in a meaningful way. The link between Julie Pierce and Miyagi leaves an opening for her character to appear in the series, and given what's happening in the series, the time couldn't be better.
What Julie Pierce Could Bring To Cobra Kai
If the past two seasons of Cobra Kai taught viewers anything, it's that Daniel is incapable of responsibly running Miyagi-Do and his regular life. Following Season 2 when Samantha was injured at the high school fight, Daniel's wife Amanda told him Miyagi-Do was done for him, no exception.
While I can imagine Daniel will eventually get back to teaching karate, perhaps there's a middle ground where he can still oversee the dojo without being so all-in and neglecting his other responsibilities. This is where someone like Hilary Swank's Julie Pierce can come in, as another known practitioner of Miyagi's Goju-Ryu. Depending on what she has going on in life, perhaps she could be that right-hand woman for Daniel to run this school and set these trouble-making teens straight.
Then again, I'm assuming that Julie Pierce has her anger fully in check in her adulthood. Daniel LaRusso and Johnny Lawrence clearly still have their faults as adults, so it would be silly to assume her faults are completely taken care of as an adult as well. Even so, that type of messiness is welcome in Cobra Kai and another direction for this highly-successful series to explore.
Why Hilary Swank Could Actually Join Cobra Kai
Cobra Kai Season 3 is just a couple of months away, and with more fans than ever obsessing about it, it would be really hard to sneak in some secret castings people wouldn't catch on to. I'm not going to rule it out entirely, but if I were a betting man, I would put money on the Netflix series not nabbing Hilary Swank for a role or cameo scene in the series for Season 3.
With that being said, the series is said to be doing very well at Netflix, and could foreseeably continue on for a while and continue to gain popularity. It may be unrealistic to expect Hilary Swank to make a cameo or have a guest-starring role in Cobra Kai in Season 3, but I don't think it's at all crazy to think Season 4 or Season 5 is out of the question. We've been told any and all characters in the franchise are fair game for this series, and when I think of a list of characters I'd like to see before the series ends, Julie is at my top of the list.
Plus, with Hilary Swank already a part of the Netflix family with a voice role in Bojack Horseman and the series Away (which was canceled, unfortunately), it almost feels like the odds are good that she could appear in Cobra Kai. Netflix is seemingly all about synergy with its actors, and once one actor joins in on an original series, it's not at all uncommon to see them pop up in others. With Swank already a part of The Karate Kid family, and with a recent relationship with Netflix, I would think it wouldn't be that hard for the Cobra Kai team to reach out and gauge her interest in reprising her role as Julie Pierce.
So while I can't say for sure whether Hilary Swank is at all interested in appearing in Cobra Kai and re-living her days from The Next Karate Kid, I do think there's a good possibility it could happen. Whether or not that's in the plans for the Cobra Kai team is another story, especially with some of the things the show seems to be working towards. Ultimately if it doesn't happen I don't think the series will be any worse for it, though I do think it'll be a missed opportunity and wonder what could have been.
Cobra Kai (opens in new tab) Seasons 1 and 2 are now available to stream on Netflix. Continue to stick with CinemaBlend for all the latest happening in the franchise, and for more news in the world of television and movies.
Mick likes good television, but also reality television. He grew up on Star Wars, DC, Marvel, and pro wrestling and loves to discuss and dissect most of it. He's been writing online for over a decade and never dreamed he'd be in the position he is today.
Your Daily Blend of Entertainment News
Thank you for signing up to CinemaBlend. You will receive a verification email shortly.
There was a problem. Please refresh the page and try again.