Why One Arrow Star Thinks His Character 'Deserves A Lot Better' Than Season 8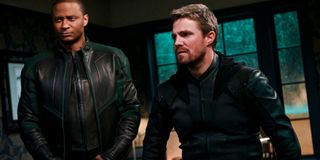 It's been nearly a year since Arrow wrapped its eight-season run on The CW. While the emerald archer retired his bow and arrow, Oliver Queen's daughter, Mia, was set to follow in his footsteps in the spinoff show Green Arrow and the Canaries. A backdoor pilot was filmed and aired as the penultimate episode of Season 8, and the episode left Mia's brother, William, in quite a precarious situation. Recently, Ben Lewis explained why he thought his character deserved better when it came to Arrow's final season.
In the second-to-last installment of Arrow's final season, Mia and William found themselves in a rebooted reality — thanks to "Crisis on Infinite Earths" — in which they grew up together instead of apart. However, things don't end very well for William, who is kidnapped at the very end of the episode. Ben Lewis, for his part, wants some closure regarding William's kidnapping. Here's what he told TVLine about his hopes for the character:
Honestly, it is rather disappointing that the backdoor pilot for Green Arrow and the Canaries ended on such a cliffhanger. William certainly didn't deserve to get the short end of the stick, especially since there was no confirmation that the spinoff would get picked up at that point. I think it would've been great to see William with a steady romantic partner as well, so it's a shame that it never truly happened while Arrow was still on the air. Kudos to Ben Lewis for being so invested in William!
Ben Lewis was also asked about the potential Arrow spinoff and its chances of getting picked up. Short answer: he doesn't really know if it'll ever get a series order from The CW, and he says he hasn't heard of any updates on that front in quite some time. It's been a year since the spinoff's backdoor pilot was filmed and nearly a year since it aired. I'm no expert, but I think if The CW execs definitely wanted the series, it would have been picked up by now.
Despite no word on Green Arrow and the Canaries, Ben Lewis has been keeping busy. He's starring in Lifetime's first LGBTQ+ holiday film, The Christmas Setup, with real-life husband Blake Lee. Lewis is excited about the film and hopes it's "just the beginning" for better representation in Christmas movies.
All eight seasons of Arrow are available to stream on Netflix. For more on what to watch in the coming months, be sure to check out our 2021 winter and spring TV premiere schedule.
Your Daily Blend of Entertainment News