Arrow's Backdoor Pilot Reveals Surprising New Relationship For Mia, Katherine McNamara Teases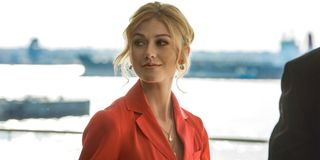 During the Arrow-verse's "Crisis on Infinite Earths" crossover, Stephen Amell's Oliver Queen bestowed his daughter Mia with her own Green Arrow costume, passing on his legacy to her. However, now that the multiverse has been rebooted, she's living a completely different life in 2040. With two more episodes left of its eighth and final season, Katherine McNamara teases that Arrow's first post-"Crisis" episode, a backdoor pilot for its potential spinoff Green Arrow and the Canaries, reveals a surprising new relationship for Mia.
In the post-"Crisis" version of 2040, Mia's memories of her father have been erased and she's led a completely different life. Gone are the cage fights and the rough exterior. Instead, Mia grew up as a socialite living safely inside the Queen mansion and she never became a vigilante. It seems Mia's relationship status might also be different. In the trailer for the episode, fans spotted Mia wearing a ring on her left hand. Does this mean Mia is engaged or married? Here's what Katherine McNamara told TV Guide:
The addition of a significant other for Mia would definitely be a big twist. Katherine McNamara has previously teased that Mia has a "love-hate" relationship with John Diggle's son Connor Hawke. Prior to the events of "Crisis on Infinite Earths," they even worked together to take down Connor's criminal brother JJ. However, their relationship was complicated at best. Still, it would be interesting to see if the post-"Crisis" world brought them together romantically and I'd be here for it.
The new reality also offers a glimpse into another one of Mia's relationships, the one she shares with her big brother William. The siblings didn't grow up together before "Crisis on Infinite Earths," but it seems the new reality has altered their history in a major way. Speaking with EW, Katherine McNamara revealed that Mia and William are "siblings in the best way" and that they now "have almost a closer relationship." That's great news because Mia's relationship with William was one of the strongest relationships she had prior to "Crisis on Infinite Earths."
Arrow's Season 8 returns with a new episode on Tuesday, January 21 at 8 p.m. ET on The CW. For more on what to watch, be sure to check out our complete 2020 midseason schedule to find out when every new and returning show is premiering.
Your Daily Blend of Entertainment News