The Witcher And Game Of Thrones Star Tests Positive For Coronavirus, Netflix Reacts Quickly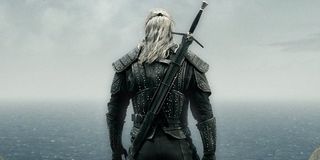 The last few days have yielded a number of actors who have tested positive for the coronavirus strain known as COVID-19. While Tom Hanks and Rita Wilson were some of the first to reveal their results, Idris Elba and others also confirmed they had tested positive for coronavirus. Most recently, Game of Thrones vet and current The Witcher star Kristofer Hivju revealed that he has also been diagnosed with coronavirus, and Netflix has reacted quickly to take measures that ensure the safety of everyone else involved.
Production on Season 2 of The Witcher was recently suspended for two weeks due to fears over coronavirus. Very shortly after, star Kristofer Hivju revealed that he had tested positive for it. (More on that below.) Per Deadline, Netflix announced it will be conducting a deep cleaning and disinfection on the Witcher's Arborfield Studios sets in hopes to eradicate remnants of the virus.
In an emailed memo, The Witcher's staff members were advised that they should self-quarantine following the production shutdown. Per the email:
Netflix's decision to deep-clean The Witcher's sets as an additional precaution is the smart and responsible thing to do in a case like this. While production on The Witcher had been put on pause prior to learning of Kristofer Hivju's diagnosis, it's definitely better to be safe than sorry, especially considering that actor no doubt came into contact with several crew and cast members while working on set, possibly passing the virus to others. The memo does, however, reassure The Witcher staff that the World Health Organization (WHO) "states that the risk of catching COVID-19 from someone with no symptoms is very low," so there's hope that no one else was affected.
Production on The Witcher Season 2 began in February, with Kristofer Hivju cast to play the character of Nivellen. He took to his Instagram to reveal that he had tested positive for COVID-19, and that he and his family were self-isolating back home in Norway. However, he told fans that he was "in good health," while only exhibiting "mild symptoms of a cold." It's good to hear that Hivju's symptoms are not dire, but he made sure to add that there are others who are far more vulnerable and everyone should take precautions to ensure they are doing whatever possible to keep the virus from spreading. Check out his post below.
The Witcher was only one of many TV shows whose productions have been shut down due to coronavirus concerns, with studios either suspending filming or closing down for the season completely. NBC's Superstore and New Amsterdam, for example, shuttered filming before their respective seasons were over and won't be returning, leaving their storylines open-ended and without official finales.
We here at CinemaBlend hope that Kristofer Hivju makes a full recovery, and that the entire The Witcher staff is taking precautions and staying safe. While Season 2 has been halted, fans can stream The Witcher Season 1 on Netflix. For more on what to watch, be sure to check out our midseason schedule.
Your Daily Blend of Entertainment News