CMA Responds After Concerns Arise Over Whether Charley Pride Contracted Covid-19 At Awards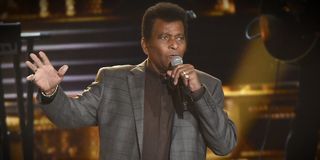 On Saturday, music legend Charley Pride died at the age of 86 due to complications from COVID-19. His final performance happened very recently for the Country Music Association Awards that aired live on November 11. Given the timing proximity of his COVID diagnosis to his in-person appearance at the CMAs last month, quite a few people are wondering if Pride possibly contracted the virus at or around the awards show. In an attempt to clear the air, CMA representatives recently responded to the speculation regarding the circumstances surrounding Pride's death.
Charley Pride's attendance at this year's CMAs wasn't just to perform, but also to accept the Lifetime Achievement honor. According to a statement made on his Facebook page, Pride was hospitalized at the end of November for "Covid-19 type symptoms." The country legend remained in the hospital for several weeks before passing away from complications related to the virus, and his death led several on Twitter – from fans to fellow country stars – to suspect he may have contracted COVID during his CMAs appearance. However, reps for the Country Music Association refuted the claims with their statement, seen below:
Fellow country star Maren Morris was one of the first public figures to speculate on the circumstances of Charley Pride's passing. Morris wondered whether the CMAs being indoors contributed to the country legend contracting the virus. If that was the case, she wrote that "we should all be outraged." While that particular tweet has since been deleted, Morris' speculation lived on and encouraged others with similar concerns to come forward with their ideas about what could have happened.
Due to COVID-19 filming guidelines, ceremonies like the 2020 Emmy Awards and the People's Choice Awards had to get creative in figuring out how to put on a show without endangering nominees. At the Emmys, Jimmy Kimmel talked to a stadium full of empty seats while the awards statues were delivered to the winners by people wearing hazmat suits.
However, viewers watching the CMAs criticized the event for not following COVID safety precautions during the event, including the attendees' alleged lack of masks and reported failure to adhere to proper social distancing protocols. Charley Pride's death from COVID complications happening only a month after he attended the CMAs has only exacerbated the matter, and brought those critiques back to the forefront.
But it appears that wasn't the case, according to the CMA's statement on the matter. According to that group, Charley Pride tested negative before, during and after his awards show performance, so all speculation otherwise can probably be considered moot, barring any other related details coming to light.
We here at CinemaBlend offer our sincerest condolences to Charley Pride's family and friends during this difficult time. Follow us to stay tuned for updates on this story.
Your Daily Blend of Entertainment News
Your Daily Blend of Entertainment News
Thank you for signing up to CinemaBlend. You will receive a verification email shortly.
There was a problem. Please refresh the page and try again.