10 Fantastic Schitt's Creek Christmas Gift Ideas For Fans Of The TV Show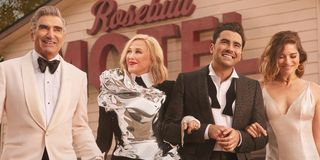 CinemaBlend participates in affiliate programs with various companies. We may earn a commission when you click on or make purchases via links.
If you have someone in your life who isn't coping in a world void of new episodes of Schitt's Creek after the show's sixth and final season came to a happing ending earlier this year, there are a few ways to help them get through the holiday season. And while it still remains unclear if we'll ever see any new adventures (or a movie) involving David, Johnny, Alexis, and Moira Rose anytime soon, there are a ton of great Schitt's Creek gifts out there that will surely hold that special someone over for the time being.
From plenty of Rose Apothecary merchandise, wine glasses, kitchen accessories, and some truly fabulous home decor options, the options are limitless to impress casual and diehard fans of Schitt's Creek around the holidays, even if it won't fully dull the pain of having your favorite television comedy being a distant memory. So, without wasting any more time, here are 10 Schitt's Creek gifts to bring some Christmas cheer this holiday season.
This Rose Apothecary T-Shirt
This is a Schitt's Creek shirt, but it's also a very specific shirt. It's also not just a shirt, it's a shirt that will help you or that special Schitt's Creek fan in your life remember the good times shared at David Rose and Patrick Brewer's iconic Rose Apothecary from the hit comedy series. With the name of the not-quite-a-general store and its signature catchphrase, this vintage shirt is perfect for anyone in your family or social circle who loves Schitt's Creek and branded merchandise. Best of yet, the shirt comes in both men and women's styles with a variety of colors, including purple, grey, red, blue, and even black for those who prefer a classic look. Not only is this shirt stylish, it will also serve as a great conversation starter out in the wild.
Buy It On Amazon Here (opens in new tab).
A 'Ew, David' Stemless Wine Glass
There are few things that go better than a glass of wine and another Schitt's Creek binge session, and that's why this "Ew, David" wineglass is such a great gift for that diehard fan in your life. Adorned with David Rose's face and his sister Alexis' signature catchphrase, this 15-ounce wineglass is also stemless, which will surely help prevent any nasty spills, breaks, or other minor disasters following hours of Schitt's Creek and wine consumption. Don't hesitate and miss out on this hilarious yet practical gift this holiday season. Also, The vinyl image and lettering printed on the wineglass will withstand the test of time, meaning it will be a trusty companion for all those future marathons.
Buy It On Amazon Here (opens in new tab).
A Schitt's Creek Rosebud Motel Coffee Mug
In Schitt's Creek, the Rosebud Motel was a place where every stay felt like home and now you can take a piece of quaint lodging home with you with this Rosebud Motel coffee mug. This professionally designed and printed white ceramic mug come in two sizes — 11-ounce and 15-ounce — and is perfect for anyone who loves the show or coffee, or a combination of the two if we're all being honest here. The image and lettering is printed on both sides of mug and is not a sticker that peels off in the dishwasher. Grab one size, or both, and give that special Schitt's Creek fan in your life the gift that keeps on giving.
Buy It On Amazon Here (opens in new tab).
This Rose Apothecary Art Print Perfect For Any Room In Your Home
Coffee mugs and wine glasses are great and all, but there is nothing quite like a nice art print perfectly situated on the wall of a home office, living room, or front entryway, and what better print than this unique piece of art displaying the front facade of Rose Apothecary. This 12-inch by 16-inch poster is printed on high-quality, premium paper with archival pigmented inks that will allow the colors to pop for decades to come. Whether you choose buy a matte and frame or decide to hang up this print on its own, it will be beautiful addition to your home that will catch the eye of fans and those who've never watch Schitt's Creek before.
Buy It On Amazon Here (opens in new tab).
A Very Schitty Coloring Book
If you or someone you know are planning on watching Schitt's Creek or all the other great shows like it currently streaming, then why not keep those idle hands busy with this "Very Schitty" coloring book. Included in this 66-page coloring book are designs and scenes from the long-running show that range from the easy to more advanced activities. This is perfect for people who find themselves mindlessly scrolling through their social media feeds whenever sitting down to watch a show or those of us who simply enjoy coloring as a way to keep our minds fixated on something constructive. And at such a low price, there's no reason to pass this up.
Buy It On Amazon Here (opens in new tab).
This Best Wishes, Warmest Regards Tote Bag
The "Best Wishes, Warmest Regards" is classic back-and-forth from Schitt's Creek that spawned into a monster of its own throughout the course of the show and continues to do so, especially now that there's this amazing tote bag that would be perfect for any an all trips to your local not-quite-a-general store or anywhere else you want to show the world you are a diehard Schitt's Creek fan. And unlike most tote bags inspired by television programs or other pop cultural references, this calico cream "Best Wishes, Warmest Regards" bag is simple and elegant, if that's your thing.
Buy It On Amazon Here (opens in new tab).
A 'Fold In The Cheese' Kitchen Apron For Those Cooking Disasters
Who can forget the memorable cooking disaster scene featuring a great bonding moment between David and Moira and the amazing "Fold in the cheese" quote on Schitt's Creek? Well, someone of us may never really understand what it means to fold in the cheese while making enchiladas, we can at least act like we do with this amazing kitchen apron for all those cooking disasters. Whether you are spending time with your mom after a long absence or just cooking on your own with an iPad playing Schitt's Creek, there is no better kitchen accessory out there. Now we just have to figure out how to "fold in the cheese."
Buy It On Amazon Here (opens in new tab).
This Amazing 'The Crows Have Eyes 3: The Crowening' Poster
If you ever wanted a poster based on Moira Rose's Interflix movie The Crows Have Eyes 3: The Crowening, you have come to the perfect place. This absurdly crafted poster from an equally absurd movie looks just like a promotional poster you would find at a random theater, but now it can be in your home, even if it may leave you looking up to the heavens while screaming "Dear God, what have we done?" every time you walk by it. But unlike the birds in Moira's infamous horror flick, you can look these birds in the eyes without losing your life. Perfect for the home office, home theater, or front entryway if you're feeling brave (or a little crazy), this amazing poster is a must-have.
Buy It On Amazon Here (opens in new tab).
A Rosebud Motel Keychain With A Variety Of Memorable Quotes To Choose From
From David telling Alexis "No, you get murdered first," Alexis saying "Love that journey for me," or David and Stevie bouncing off one another with "Best wishes, warmest regards," Schitt's Creek has some of the most memorable quotes in recent memory. Now those three iconic quotes can be yours with these Rosebud Motel keychains similar to ones hanging behind the front desk all those years. This is the perfect gift for someone looking for a new keychain for practical or impractical reasons, or someone who just wants a good conversation starter whenever they have company. This is probably a given, but the "We Guarantee Postage" stamp on the bottom of the keychain is not really valid in the real world.
Buy It On Etsy Here (opens in new tab).
This Set Of Four Schitt's Creek Prayer Candles Just Because
And then there is this set of four prayer candles featuring the individual members of the Rose family from Schitt's Creek. These unscented candles are perfect for fans of the show who want a good laugh and reminder of the good times they had with Moira, David, Alexis, and David, or want a very unique way to bring some ambience to the room. These candles are ridiculous, I know, but what better way to celebrate the legacy of one of the most absurd shows to air on modern television. Please note that lighting these candles and saying a prayer for the show's return won't guarantee Schitt's Creek Season 7, but it never hurts to try.
Buy It On Amazon Here (opens in new tab).
This should be more than enough to set you on your way to finding the best gift for that Schitt's Creek fan in your life. Make sure to sound off in the comments below and let the world know which one is your favorite.
Your Daily Blend of Entertainment News
Philip grew up in Louisiana (not New Orleans) before moving to St. Louis after graduating from Louisiana State University-Shreveport. When he's not writing about movies or television, Philip can be found being chased by his three kids, telling his dogs to stop yelling at the mailman, or yelling about professional wrestling to his wife. If the stars properly align, he will talk about For Love Of The Game being the best baseball movie of all time.
Your Daily Blend of Entertainment News
Thank you for signing up to CinemaBlend. You will receive a verification email shortly.
There was a problem. Please refresh the page and try again.