Schitt's Creek Ending: How Things Ended For Each Major Character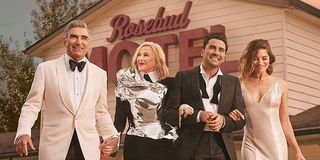 Schitt's Creek ended its six-season run in April. A few months later, it swept the 2020 Emmy Awards with several wins, including one in every major acting category. It was a wonderful way to bid farewell to the series. Suffice it to say that Schitt's Creek is a special show, with characters who saw a tremendous amount of growth after being stripped of their fortune and moving to the small town.
The Rose family thought they had it all before moving to Schitt's Creek, but the town changed them for the better. It also gave them things and opportunities that they wouldn't have found elsewhere. After six seasons of laughs, tears, and zany shenanigans, Schitt's Creek gave every character a thoughtful (and somewhat bittersweet) ending. Here's how things ended for each major character on the show.
David Rose Marries Patrick Brewer And Stays In Schitt's Creek
If you'd have asked Dan Levy's David Rose what his life would've looked like years after moving to Schitt's Creek, I doubt he would have said he'd be marrying the love of his life. However, that's exactly what happened. Things didn't exactly go according to plan on the day of David and Patrick's wedding, with rain ruining their outdoor wedding venue. They panicked because they didn't have a contingency plan (and no tent).
Luckily, Patrick was able to work it all out and the couple ended up getting married at the townhall. Alexis walks David down the aisle and he and Patrick, after initially deciding to move to New York with Alexis, choose to stay in Schitt's Creek. Realizing that his home is wherever Patrick is, David tells his husband that he'd put in an offer on a cottage they both liked. He and Patrick continue running Rose Apothecary together as well. 'Twas a very happy ending for them both.
Alexis Rose Moves To New York City To Work As A Publicist
Annie Murphy's Alexis had it pretty rough in the final episodes of Schitt's Creek. After her fiancé Ted found his dream job and moved to the Galapagos Islands for good, he and Alexis decide to break up. It was a sad day indeed (but also one of the most genuine onscreen break-ups in a while). However, Alexis wasn't down on her luck for long.
After spearheading the publicity for Moira's film, The Crows Have Eyes 3, she was recruited to manage the publicity for Interflix, the streaming service producing the film. The company saw the fabulous job she did promoting her mother's film and wanted her to do the same for their other movies. And so, Alexis took the job and announced that she was relocating to New York. She spent the final episode telling her family how much she loved them, and even encouraged Twyla to do something great with her fortune.
Johnny Rose Moves To California To Head Rosebud Motels HQ
In a bid to expand Rosebud Motel Group, Eugene Levy's Johnny leads Stevie Budd and Roland Schitt to New York City. Their plan is to woo Johnny's former assistant and his team of investors. The presentation is fabulous, of course, but the hedge fund group ultimately passes on the offer and even mocks Johnny's idea.
However, another team of investors (who were sitting in on the same meeting) decided to give Johnny and co. the money they need to expand the franchise. With the funds secured, Johnny leaves Schitt's Creek behind and decides to move to California to join his wife Moira and head Rosebud Motel Group's headquarters there instead of in New York. On his way out of town, he takes a peek at the Schitt's Creek sign to see that it's been changed to include his family. Cue the tears!
Moira Rose Moves To California To Star In A Reboot Of Sunrise Bay
After starring in The Crows Have Eyes 3: The Crowening, Moira's acting career was rejuvenated and she was excited to begin taking on more roles. Catherine O'Hara's Moira is surprised to receive an offer to reprise her role in the reboot of the '90s soap opera Sunrise Bay, where she originally starred as Vivian Blake.
Moira was thrilled that they wanted her back, but she refused to sign on initially, afraid the show's writers would just kill her off again like they did the first time. Later, Alexis discovers that it was Moira's former co-star Clifton Sparks (Victor Garber) who wanted her character killed off and Moira confronts him about it. Moira winds up taking the offer and moves to California to star alongside Nicole Kidman in the reboot. Meanwhile, Clifton is booted from the reboot.
Stevie Budd Will Travel The Country On Motel Business
Stevie has had an on/off again struggle with her life choices and career path. At one point, she even quit working for Rosebud Motels because she didn't want to carry on in the job. She even tried being a flight attendant for a while. However, Stevie chose to rejoin Rosebud Motels as co-owner and went to New York with Johnny and Roland to pitch the franchise motel idea.
With Johnny off to California, Stevie decided to remain in Schitt's Creek instead of moving to New York. She just wanted to know that she had more than her hometown as an option. In her new role with Rosebud Motel Group, Stevie would travel around the country to oversee and open new locations of the motels. It was an adventure she may never have expected before and I'm happy for her.
Roland And Jocelyn Schitt Stay In Schitt's Creek
It's not all that surprising that Roland and Jocelyn remained in Schitt's Creek. Roland still serves as the town's mayor, but he's now also working alongside Johnny and Stevie in running the Rosebud Motel Group. Now that they've landed an investor, Roland will continue working at and overseeing the original Rosebud Motel.
In a surprise move, Roland has the Schitt's Creek sign changed to include the Rose family and I think it might be the nicest thing he's ever done. Meanwhile, Jocelyn, after some heated arguments with Moira about leadership, carried on with running the Jazzagals and sang with them a cappella at David and Patrick's wedding. She and Roland were also raising their baby boy, Roland Moira Schitt.
I'm really glad that each character got their own version of a happy ending. It was probably one of the best and most satisfying sitcom series finales that I've seen in some time. And, even though most of the Rose family left Schitt's Creek behind, I know that they'll eventually return.
If you're already missing the series like I am, the good news is that all six seasons of Schitt's Creek are currently available to binge watch on Netflix (opens in new tab). For more on what to watch in the meantime, be sure to check out our 2020 fall TV guide for options and updated premiere dates and times.
Your Daily Blend of Entertainment News
Your Daily Blend of Entertainment News
Thank you for signing up to CinemaBlend. You will receive a verification email shortly.
There was a problem. Please refresh the page and try again.