Schitt's Creek: 7 Reasons To Binge The Series Before The Finale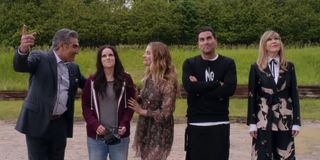 In 2019, Schitt's Creek started to receive the recognition that it deserves. The Dan Levy and Eugene Levy series gained four Emmy nominations, including Outstanding Comedy Series, Best Lead Actor in a Comedy Series, and Best Lead Actress in a Comedy Series. Then it went on to receive Critics' Choice, GLAAD, Screen Actors Guild, and many more nominations. After those nominations, more TV fans began to add Schitt's Creek to their need-to-watch lists, but for many dedicated fans of the show, these nominations just confirmed what they already knew: Schitt's Creek is a charming, hilarious comedy series. In 2020, Schitt's Creek ends its run with Season 6. Thanks to the power of Netflix, anyone can binge watch the series before its finale.
Schitt's Creek began airing its final season on January 7, and it plans to air 14 episodes for Season 6. This means Schitt's Creek has quite a few episodes left before it reaches its finale, which should air in April, with One Day At A Time likely taking over its time slot hereafter. Those curious about Schitt's Creek have a couple of months to catch up before April. Luckily, Schitt's Creek only airs about 13 to 14 episodes per season with about a 22-minute runtime. It's not only easy to get caught up on Schitt's Creek before the finale, but it's necessary if you want to enjoy the final season live, or at least the final episode live.
Here are a few other reasons why you should binge watch Schitt's Creek before the finale.
The Journey Of The Rose Family Is Riveting
The series centers on a once wealthy family that loses everything and end having to live in a motel in a small town called Schitt's Creek.
Throughout Schitt's Creek's six seasons, the Rose family grows from snobby, eccentric rich people to eccentric, slightly more relatable people. The series shows both Alexis (Annie Murphy) and David (Dan Levy) find true love for the first time. In the earlier seasons of Schitt's Creek, Alexis found herself more drawn to rugged Mutt Schitt (Tim Rozon) than good ol' veterinarian Ted Mullens (Dustin Milligan). David and Patrick (Noah Reid)'s romantic journey is a little more straightforward. They feel an immediate connection and just get stronger as a couple and partnership over the final few seasons.
Schitt's Creek also allows each member of the Rose family to mature as individuals. Moira (Catherine O'Hara) become less self-involved, Johnny (Eugene Levy) becomes more giving and sentimental, and both of the Rose children turn their passions into semi-thriving businesses. Schitt's Creek allows every character to grow without losing the essence that makes them so funny.
The Hilarious Cast And Their Chemistry
Schitt's Creek can pair any two characters and it works. No pairing feels awkward, unusual, or random. It feels like Eugene Levy and Dan Levy put a lot of thought, time, and effort into the cast chemistry when casting each character. One of the series' biggest strengths is how well the cast plays off each other. David and Alexis are my favorite Schitt's Creek pairing, but Moira and Johnny are just as magnetic to watch together, the same with David and Patrick, Alexis and Ted, Stevie (Elizabeth Hampshire) and David, and so on until eternity. Watching a show where the cast has amazing chemistry often adds to the production value and intrigue of a series. Schitt's Creek is ten times more enjoyable because of how well the cast works off each other.
To Avoid Schitt's Creek Final Season Spoilers
If you visit any social media site or even use Google, most likely at some point someone you know (or someone who knows someone you know) will post about a major Schitt's Creek spoiler. If it's something big or surprising, that might kill the initial excitement when you finally get around to Schitt's Creek's final season. Social media has become a major component of watching any major television series, so spoilers are always on the horizon. Any Game of Thrones fan will tell you that you'll need to avoid social media until you catch up, or expect spoilers, especially on the night an episode airs. It's just safer to completely catch up on Schitt's Creek before the series finale airs, because the internet will be full of Schitt's Creek spoilers, and they'll be popping up everywhere.
Seeing spoilers about the Schitt's Creek finale or final season might not completely ruin the experience of watching a delayed viewing of it, but going into the final season blindly definitely enhances the experience.
Be In On The Jokes
Most long running sitcoms or comedy series have running gags. Schitt's Creek has plenty of them, everything from Alexis's past adventures to Patrick and Ronnie (Karen Robinson)'s turbulent relationship. Binge watching Schitt's Creek before the finale will allow you to easily understand and see major long running jokes finally pay off in the end. Also who doesn't enjoy when a series references something very early in the show, and then have it come full circle in the end? Little clever details like that help prove that a series is deserving of its popularity.
The Romance Between Patrick And David
Schitt's Creek has done a great job of making Patrick and David the "it" couple of the series. You want to see these two lovebirds get a happy ending and that seems to be what Schitt's Creek Season 6 is heading towards. By catching up before the finale, you can swoon along with the rest of us if everything works out for this fantastic TV couple.
To See How It All Began
Schitt's Creek has been on PopTV since 2015. It's experienced a lot of changes over the course of the show, so binge watching it right before the finale will add a bit of nostalgic appeal to the final season. This is a series you really want to watch from the beginning, rather than diving into the final season that's airing right now. As I said, there's still plenty of time to get caught up before it all wraps up.
The Smart, Unique, And Refreshing Comedy
There are many funny shows on the air, but Schitt's Creek feels unique, smart, and refreshing in its approach to comedy. It falls into many different comedy show genres, but it adds its own twists to give it a more creative approach than many network comedies. The jokes never feel stale, predictable, or tired. The team behind Schitt's Creek clearly cares about making a stimulating series and it comes across in every aspect of production. It's a formula that many series may try to copy in the future, but none will succeed in the same way as Schitt's Creek.
Currently, Netflix has the first five seasons of Schitt's Creek available to stream. So watch every episode, and then catch the final fourteen episodes on Pop TV.
Your Daily Blend of Entertainment News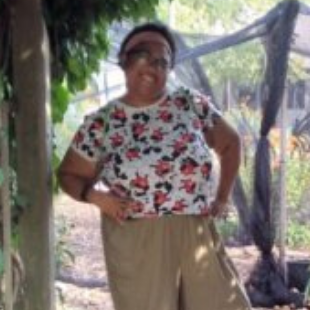 Spent most of my life in various parts of Illinois, including attending college in Evanston. I have been a life long lover of pop culture, especially television, turned that passion into writing about all things entertainment related. When I'm not writing about pop culture, I can be found channeling Gordon Ramsay by kicking people out the kitchen.