Despite Huge Success, Netflix's Queen's Gambit Has Had Negative Impact On Chess World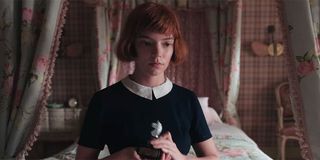 It has only been two months since Netflix released The Queen's Gambit, a coming-of-age story about an orphaned chess prodigy, and the miniseries has been a huge success. The limited series has also had some serious impact on the chess world, although not all of it has been positive.
The overwhelming success and reception of The Queen's Gambit has brought attention to the less popular and more intellectual sport of chess. Taking place in the Cold War era, an exciting time in the chess world, The Queen's Gambit acts as a sort of time capsule for viewers. The miniseries brings a compelling personality to chess by focusing on gender issues in the sport, relations between the Soviet Union and US players, and what addiction could look like for players in the 50s.
While the new interest in chess is a definite positive, the large amount of people flocking to the sport has a downside: cheating. According to Business Insider, there has been a huge spike in cheating on chess.com.
Chess.com is an online chess server, forum, and news site with now over 40 million users. Since the release of Queen's Gambit, sign-ups for the site are at record-setting numbers. You can always count on a good thing getting messed up, though! Some of these sign-ups, it would seem, are bad seeds. In the month of November alone the site has had to close well over 18,000 accounts due to violations relating to cheating.
It may seem odd to associate chess with cheating, and in the world of The Queen's Gambit it would definitely be a difficult feat to pull off. Surrounded by spectators, other players, and at least one overseeing official, cheating in a live tournament would almost be more difficult than winning the match. Although it has occurred in live matches, cheating online on a platform like chess.com is apparently a lot more common.
Why cheat, though? What do players have to gain? Quite a lot, actually. While there are quite large prizes for winners and runner-ups of tournaments, there may be one thing worth more than any amount of prize money: notoriety. One thing viewers learn about the sport of chess from Netflix's Queen's Gambit is that the title of Grandmaster and being the best is a huge driving force for competitors in the sport, and can sometimes be seen as an addiction.
Platforms like chess.com who make chess easily accessible to players via the internet are taking steps to combat those with bad intentions. The sites use algorithms to determine who is cheating, and when a player is deviating from their normal practices - in other words, the internet can tell when someone is acting funny!
Hopefully, they will continue to develop ways to weed out the bad seeds so the sport can continue to be enjoyed by new players. The sport is continuing to grow in popularity, and with the possibility -- or at least hope --for a second season for The Queen's Gambit, we can hope for another serge in new players in the future. For now, you can stay on top of everything soon-to-come to Netflix by checking out our updated schedule.
Your Daily Blend of Entertainment News
Constantly thinking about books, coffee, and the existential dread I feel from Bo Burnham's Inside. While writing I'm also raising a chaotic toddler, who may or may not have picked up personality traits from watching one too many episodes of Trailer Park Boys.
Your Daily Blend of Entertainment News
Thank you for signing up to CinemaBlend. You will receive a verification email shortly.
There was a problem. Please refresh the page and try again.