She-Hulk: 8 Marvel Characters Who Should Appear On The Disney+ Show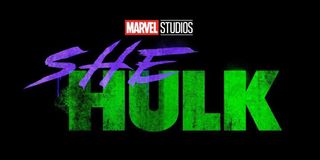 The Marvel Cinematic Universe is headed into a new era, one that will take place on television via Disney+. Yes, we knew Marvel Studios had big plans for the small screen but, during the December 2020 Investor Day presentation, the company appeared to put all of its cards on the table. One of the shows we've known about for a while now is She-Hulk, though a few key castings were confirmed. Plus, we learned that the show will mark the return of Tim Roth's Emil Blonsky, a.k.a. The Abomination. Interestingly though, Marvel head honcho Kevin Feige also made it a point to mention that because the titular heroine works within the world of superhero law, there's a chance some notable Marvel characters could pop up.
She-Hulk has the opportunity to include plenty of well-known names from the MCU. In the comics, Jennifer Walters took on plenty of heroes as clients and even went up against a few of her comrades on the legal battleground. So, it's not surprising to hear that Marvel Studios is keeping this in mind for the Disney+ show. Because the show is also a part of the Hulk mythos, there is a chance we could see some other characters return as well. There are plenty of possibilities, but there are a few specific characters that would be perfect. How about we take a look at who these MCU veterans are:
Thaddeus "Thunderbolt" Ross
Former general Thunderbolt Ross had long been absent from the Marvel Cinematic Universe after making his debut back in 2008's The Incredible Hulk. However, he returned in a big way in 2016's Captain America: Civil War when he was revealed to be the new secretary of state, and he's since appeared in two Avengers films and will star in Black Widow. With his reinvigorated role in the franchise and his key role within the Hulk mythos, it makes plenty of sense for Ross to appear in She-Hulk.
Although Ross is no longer obsessed with hunting down Bruce Banner, he has still proven to have a strong mistrust of metahumans and has recently been using the law to combat them. Now, with Jennifer Walters (a new superhero) serving as an advocate for them in the courtroom, the secretary of state may have a few objections. Ross would know Walters' legal knowledge could be invaluable for the superhero community, and he'd probably do everything in his power to keep the Hulk's cousin from giving them a voice.
Betty Ross
The return of Thunderbolt Ross and the upcoming reappearance of Blonsky proves that the MCU isn't against bringing back characters who've been MIA for a while. So, why not bring back the secretary of state's daughter as well? Betty Ross made her first and only appearance in the franchise in The Incredible Hulk and, as the former lover of Bruce Banner, she plays a key role in the history of the Hulk. And, like her estranged father, she could find her way into Jennifer Walter's story.
Established as a scientist and professor at Culver University, Better was recently revealed to have been a casualty for Thanos' Snap, though that means she was brought back, thanks to her ex, five years later. If Betty returns, she could still be a scientist, but maybe she could be repurposed (like her father) to better fit into the narrative. For instance, she could have become a metahuman advocate, having been fueled by her father's years-long hunt for Banner and his recent anti-hero legislation. This would make her a key ally to Jennifer Walters and bring her back into the action in a unique way. Plus, an appearance from her could also lead to a reunion (and potential reconciliation) between her and the returning Banner.
Leonard Samson
Some may forget that classic Marvel Comics character Leonard Samson originally appeared during the early days of the MCU, played by a pre-Modern Family Ty Burrell. Like his comic book counterpart, Samson was a psychiatrist, but this version of the character was also dating Betty Ross. The romance, however, appeared to have dissipated when Betty eventually reconnected with Banner. Following his brief role in The Incredible Hulk, Samson wasn't seen again, and fans didn't get to see him adopt his eventual gamma-powered, superhero alter ego – Doc Samson.
Samson wouldn't need to be a superhero to play a role in She-Hulk, as his job as a psychiatrist could actually give him a unique part. When Jennifer Walters first gains her abilities, you can bet it won't be easy for her, either physically or mentally. Why not have her seek out a shrink to help her work through her growing pains? Having Samson appear in this capacity would not only bring the character to the canvas again and give him more to do, but it could also help peel back the layers on the main hero. Plus, Kevin Feige has teased a comedic tone for the show, and one can only imagine how funny it would be to see Burrell helping a 6'7" green woman face her problems.
Peter Parker/Spider-Man
As mentioned, Jennifer Walters specializes in legal situations that involve superheroes, and which hero could use her expertise more than Peter Parker, a.k.a. Spider-Man? When we last saw the web-slinger, he had been accused of killing Quentin Beck a.k.a. Mysterio and engineering the villain's drone attack on London. It goes without saying that the now-exposed Parker could probably use some legal counsel right about now.
With the third Spider-Man film set to hit next December and She-Hulk currently undated, it's hard to say if Spidey would need Jennifer Walters' help after his film. But there's still a chance that he could be dealing with the law by that point. Should this be the case, Walters would be the perfect person to represent him and, to be quite honest, it would just be nice to see the two witty heroes play off of one another.
Scott Lang/Ant-Man
One hero who has had plenty of run-ins with the legal system is Scott Lang, the ex-con we now know as Ant-Man. Most of Scott's robberies had positive reasoning behind them, yet that didn't keep him from landing a three-year prison sentence after getting carried away during the Vistacorp job. Although Lang has still had some close calls since becoming a hero, he's mostly remained on the straight and narrow. This doesn't necessarily mean he can't use She-Hulk's legal services in other ways.
Scott made a lot of friends in prison – as evidenced by Ant-Man's opening scene – and some of them could still be doing time. With this, Lang may feel inclined to ask for legal advice or even try to convince Walters to help some of his buddies appeal their cases. Yes, Walters does focus on metahuman affairs, but she's knowledgeable in all aspects of the law. Plus, she's a hero who's always looking to do the right thing, so why wouldn't she help out a fellow hero if she were able to?
Clint Barton/Hawkeye
Clint Barton may be a veteran of S.H.I.E.L.D. and one of the founding members of the Avengers, but the man is far from a saint. He's shown that he's not opposed to getting his hands dirty, and this was certainly the case when he transformed into the murderous vigilante Ronin in the five years after the events of Infinity War. Like She-Hulk, Hawkeye is slated to get his own eponymous TV show, and the series is set to explore more of this period in his life. But it still remains to be seen if Barton will face any kind of legal consequences for his actions.
Even though Barton was cutting down criminals, he was still killing nonetheless, and law enforcement around the world likely wasn't pleased with his messy activities. She-Hulk could provide an opportunity for Clint to face trial for what he's done and, given the tough subject matter of the case, it could make for a compelling piece of storytelling. And, even if Hawkeye isn't charged for his actions as Ronin, there's still the possibility that he and new protégé Kate Bishop find themselves in a jam as a result of their adventures in Hawkeye.
Thor
Although the God of Thunder has spent a large chunk of his time travelling the cosmos, he's likely to frequent Earth more due to the fact that it's now the home of New Asgard. Thor, like Clint Barton, may be a founding Avenger, but, given his fun-loving and enthusiastic nature, he sometimes finds himself acting recklessly. If he happens to be on Earth (and in the states) when he causes a stir, he may need legal representation.
On the surface, there's so much humor that can be mined from the potential interactions between Thor and Jennifer Walters. We know how funny and somewhat self-aware Thor has become and, if Walters is anything like her comic book counterpart, she'll definitely be able to fire off a one-liner or two as well. What could really be interesting about Walters taking him on as a client is that it would help establish how citizens of New Asgard are viewed by the American legal system in the MCU. A development like this would allow She-Hulk to contribute a crucial element to the cinematic universe.
Matt Murdock/Daredevil
Most would admit that this pick is on the nose and may seem like a long shot. But let's be honest, who wouldn't want to see Matt Murdock, one of Marvel's finest lawyers, appear in She-Hulk. It's currently unclear as to whether or not Marvel Studios plans to revive the Netflix characters, though the recent report of Daredevil potentially appearing in Spider-Man 3 may be a positive sign. So, the idea may not be as far-fetched as you might think.
The Netflix shows established that Matt Murdock, along with partners Foggy Nelson and Karen Page, were gaining serious notoriety for their legal work. Given that Walters and Murdock work within the legal world, it would only make sense that he would be fair game for the show (if he is being reintegrated). There's no doubt that the two would hit it off and, with the growing number of metahumans, Murdock and his partners even feel compelled to lend their support to She-Hulk's cause.
Are there any other MCU characters that you think should appear in Disney+ and Marvel's She-Hulk? Let us know in the comments! And be sure to keep it tuned to CinemaBlend for news on She-Hulk, and for more from the world of TV and movies.
Covering superheroes, sci-fi, comedy, and almost anything else in film and TV. I eat more pizza than the Teenage Mutant Ninja Turtles.
Your Daily Blend of Entertainment News
Thank you for signing up to CinemaBlend. You will receive a verification email shortly.
There was a problem. Please refresh the page and try again.