10 Best Adult Swim Shows Ever, Ranked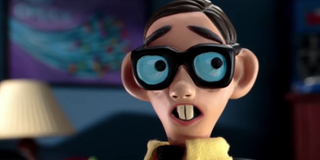 Ever since its launch in 2001, Adult Swim and its shows have been a creative force in late-night comedy programming. Adult Swim shows have been highly influential over the years and have garnered acclaim and awards for creativity and influence in ways people may not immediately be aware of. Alas, that's the casualty of being a programming block that airs great shows with titles Your Pretty Face Is Going To Hell and Assy McGee.
There's no denying there have been some great Adult Swim shows over the years, but which among them rank among the best? Given the variety of original programming and humor of its audience, it's unlikely there will be universal consensus, but here are 10 of the best Adult Swim has given the world that deserve recognition as the pinnacle of programming.
10. Tim And Eric Awesome Show, Great Job!
A polarizing choice for some, to be sure, but Tim Heidecker and Eric Warheim's influence on modern comedy via Tim And Eric Awesome Show, Great Job! can't be denied. Since its premiere in 2007, advertisers and YouTubers alike have imitated the duo's odd brand of humor in addition to the unique editing the series became prolific for.
Tim And Eric Awesome Show, Great Job! also managed to wrangle a healthy amount of talented actors and comedians for its show, bringing everyone from Will Ferrell to Tommy Wiseau to late night on Adult Swim. It spawned a spinoff, Check It Out! With Dr. Steve Brule, and got its own feature, Tim And Eric's Billion Dollar Movie. The series officially said goodbye in 2010 (minus two specials in 2017), but Heidecker and Warheim's success in Hollywood continues today.
9. Harvey Birdman, Attorney At Law
Much like Space Ghost Coast To Coast, Harvey Birdman, Attorney At Law was an Adult Swim series that took classic Hanna-Barbera characters a generation grew up with, and parodied them to be the people an adult audience often expected them to be. As for Harvey Birdman, the hero-turned-lawyer was often tasked with defending these characters with whatever legal problems they faced.
The original run lasted from 2001 to 2007, although Harvey Birdman recently made a comeback with Harvey Birdman: Attorney General in 2018, and a spinoff Birdgirl was recently announced and ordered to series. With a legacy that's lasted that long and looking as though it's going to start back up yet again, it's no surprise this Adult Swim show made the list.
8. Home Movies
While Home Movies initially started life on UPN, it was cancelled after only five episodes and revived on Adult Swim and billed as its first original series in 2001. The tales of Brendon and his young friends resonated with audiences, as well as the more adult-oriented humor that was certainly more grounded than later Adult Swim shows. The series ended in 2004, but fans continue to celebrate it as one of the brand's cult classics.
The biggest justification for Home Movies on this list comes from who created it, Brendon Small and Loren Bouchard. Small went on to create the highly acclaimed and still-beloved Adult Swim series Metalocalypse, and Bouchard reunited with Home Movies voice actor H. Jon Benjamin for the Fox hit and Adult Swim-syndicated favorite Bob's Burgers. There's plenty to love about Home Movies beyond what their creators went onto afterward, of course, so be sure to check it out.
7. The Eric Andre Show
If ever there was an Adult Swim show that could be best described as a "fever dream," The Eric Andre Show is it. Eric Andre and Hannibal Buress' starred talk show parody went surreal right out the gate, often with unassuming celebrity guests that sometimes had no clue what they were getting into. This created awkward and hilarious humor that the series thrived on since its debut in 2012.
From "Legalize Ranch" to the "Let Me In" meme, The Eric Andre Show has solidified itself as one of the more popular Adult Swim shows amongst viewers. Season 5 is planned to happen, although a bulk of Season 4 aired in 2016, so there's no telling when the new season may arrive.
6. Aqua Teen Hunger Force
One of the surreal originals that put Adult Swim on the map, Aqua Teen Hunger Force likely needs no introduction to most fans of the programming block. The series started in 2002, and at the time of its cancellation in 2015, it was the longest running Adult Swim series. Who would've thought that a series that started from a Space Ghost Coast To Coast joke would have such legs?
Aqua Teen Hunger Force was another Adult Swim series to get a movie, and one of the few shows to have its characters live on in Adult Swim branding. Meatwad, Frylock, Master Shake and especially Carl have solidified their legacy as Adult Swim icons, and their misadventures will remain timeless mainly because of the series' premise. As a side note, the show's success is especially impressive given it abandoned the character's premise as crime fighters very early into the series.
5. Metalocalypse
Quick question, how many cartoons out there have spawned a respectable metal band with an album that's charted on the Billboard Top 200 list? Unless there's some obscure series we're unaware of, Metalocalypse is it, and Brendon Small's comedy series about a modern metal band was an instant hit among fans of the genre and many Adult Swim viewers both shocked and entertained by its overtly violent animation and irreverent humor.
The fictional band Dethklok was just as great as the series, and Small toured with other acclaimed metal acts Mastadon and High On Fire during the show's run. To this day, fans still frequently petition for its return, to the point that Adult Swim has actively trolled those hopefuls to the enjoyment of others. Fans can still binge the four seasons and special finale that aired between 2006 and 2013, but for now, that appears this series isn't coming back.
4. The Boondocks
Adult Swim has rarely balked at controversial subjects or topics in its other shows, but it wasn't until The Boondocks that it tackled big issues that weren't surreal. Aaron McGruder's The Boondocks already had a reputation as a socially conscious and controversial cartoon strip, and it didn't tone things down in the jump to television. In its run the series garnered criticism for, among other things, its frequent use of racial slurs and frequent political and social commentary.
The series also found critics in the form of Reverend Al Sharpton, Tyler Perry and the BET network for its various themes and parodies of individuals. Yet the Adult Swim series kept on, running four seasons between 2005 and 2014 and picking up a Peabody Award along the way. That's not something any other Adult Swim show can say (for now), which more than justifies its spot on this list.
3. The Venture Bros.
As previously mentioned, Aqua Teen Hunger Force was the longest running Adult Swim show at the time of its cancellation, but The Venture Bros. recently took its title. While that's certainly a bittersweet achievement, there are few shows that deserve the title more than Jackson Publick's riff on Johnny Quest that was sometimes subtle, and other times featured an actual drug-addict adult "Johnny" that looked shockingly similar.
There's so much to love about The Venture Bros., but perhaps the best is that the series has maintained an impressive level of continuity since its beginning in 2003 to the present day. The only real downside is that there's only been 7 seasons in that span, but rest assured, those 81 episodes to date are of the utmost quality, and make the large gap between seasons well worth it.
2. Robot Chicken
Very few shows can garner near universal acclaim in geek culture, yet Robot Chicken is one of those few shows that exists in that territory. That may be because it's notorious for its riffing on the best of geek pop culture, and has gained several Emmys since its beginning in 2005. The series has run seven seasons so far and has also done specials on Star Wars, DC Comics and The Walking Dead that were instant classics.
As an aside that casual fans may not know, Robot Chicken originated via a comic in the magazine ToyFare. Eventually a show was created, which several major shows passed on until Family Guy creator Seth McFarlane suggested Seth Green and crew pitch the show to Adult Swim. Suffice to say it was a match made in heaven, and Robot Chicken appears to have a home on Adult Swim for as long as it wants.
1. Rick and Morty
Rick and Morty may be the newest Adult Swim original on this list (it started in 2013), but there's little question that it isn't deserving of the top Adult Swim original ever. The series has garnered massive popularity in a relatively short amount of time thanks in no small part to the smart writing of creators Justin Roiland and Dan Harmon, and their crew.
It may not have as many Emmys as Robot Chicken, but did the latter play a part in a massive PR disaster at McDonald's? It certainly did not, and while Rick and Morty still has a ways to go before being considered on the same level as The Simpsons, South Park, and Family Guy, it's certainly fast approaching that territory, and may ultimately become the show Adult Swim is most remembered for if, heaven forbid, it go away.
Adult Swim has had tons of shows over the years, and there's sure to be some folks upset about the exclusion of a show or two. Disgruntled readers can make their case for shows like Squidbillies, Loiter Squad and others in the comments, and also click around on CinemaBlend for more television analysis and the latest headlines in television and movies.
This poll is no longer available.
Your Daily Blend of Entertainment News
Mick likes good television, but also reality television. He grew up on Star Wars, DC, Marvel, and pro wrestling and loves to discuss and dissect most of it. He's been writing online for over a decade and never dreamed he'd be in the position he is today.