Glee Vet Naya Rivera's Actual Final TV Appearance Is On A Wild And Unexpected Show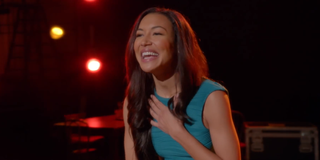 Glee vet Naya Rivera unexpectedly died in July from a tragic accidental drowning. The late actress was mourned by her family, friends, and fans in the aftermath, many of whom recalled the impact Rivera made in their lives. Rivera's final TV appearance was previously believed to have been in an episode of Netflix's competition series Sugar Rush. As it turns out, however, her final appearance is actually in a very unexpected show.
The late Naya Rivera reportedly filmed an episode of The Eric Andre Show prior to her death. The comedy series, which airs on Cartoon Network's Adult Swim and parodies talk shows in a late-night-style format, is known to bring on celebrity guests and Rivera was apparently one of them. Her appearance on the series was confirmed by none other than Eric Andre on Twitter. Here's what he wrote about Rivera's upcoming episode and when it will air:
Eric Andre did not elaborate on the details surrounding Naya Rivera's appearance, nor did the host indicate when the late actress actually filmed the episode in question. However, we now know that she will appear in one of two Season 5 episodes scheduled for the midnight half-hour block on Monday, November 9 (Sunday for those on the west coast).
The talk show has a tendency to get pretty wild — Eric Andre pulls pranks and various stunts to surprise his guests. Let's just say that it's not your average late-night talk show at all! Several months have gone by since Rivera's passing, but I think The Eric Andre Show provides a bittersweet opportunity for fans to see the actress in a new project one last time.
The Glee alum was reported missing on July 9 after taking her young son Josey out on a boat at Lake Piru. Naya Rivera was presumed to have drowned in the lake before her body was officially found a few days later on July 13. A plethora of tributes and messages in honor of the late actress quickly began pouring in and a private funeral was held for her on July 24, where she was laid to rest in Los Angeles' Forest Lawn Memorial Park.
Naya Rivera's episode of The Eric Andre Show will air between 12:00 - 12:30 a.m. ET on Monday, November 9 on Cartoon Network's Adult Swim. For more on what to watch in the meantime, be sure to check out our 2020 fall TV premiere guide, and stay tuned to CinemaBlend for the latest in TV and movie news.
Your Daily Blend of Entertainment News
Thank you for signing up to CinemaBlend. You will receive a verification email shortly.
There was a problem. Please refresh the page and try again.