Bachelorette Spoilers: Surprises Are In Store For Tayshia's Fantasy Suite Dates And Finale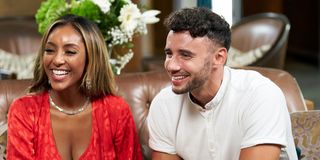 Warning: Potential Spoilers ahead for the two-part finale of The Bachelorette Season 16 with Tayshia Adams! Look away until you get all of your roses in order!
Well, well, well. It's come down to this, Bachelor Nation. After several weeks of watching Tayshia Adams play catch up on her shortened portion of Season 16 of The Bachelorette, she's managed to finally get to fantasy suite dates with her last three remaining suitors. Tayshia seems to be feeling pretty good about everyone who's left, but that doesn't mean there won't be some shocking moments ahead for us fans. So, let's take a look at what spoilers say about Tayshia's fantasy suite dates, finale, and all of the surprises to come!
Now, despite some disappointments for fans (and Tayshia!) last week, she has decided on her final three men, and they are: Brendan Morais, Ivan Hall, and Zac Clark. Tonight's episode will follow the fantasy suite dates, and, according to Reality Steve, the adventure will begin in earnest with...Tayshia talking about the men with a returning JoJo Fletcher. What? I mean, great! More of lie detector test expert JoJo is precisely what we all needed right now!
After their conversation, the dating begins with Tayshia and Ivan setting off to try and get the world record for the longest kiss in an ice bath. And, these crazy kids manage to nab that title. There's nothing like going down in the record books with someone you (probably) won't even speak with in a few days!
When it comes time for the evening portion of the festivities, Ivan breaks out his I-L-O-V-E-Y-O-U card, noting that he's falling in love with our Tayshia. She tells him that she's right there with him, and they enjoy some camera / microphone free time in their suite overnight. Of the guys left, I really like Ivan the most, but I just don't see her picking him in the end, do you?
Fantasy suite date number two is for Zac. During the day, Zac and Tayshia do some wild, messy, painting each other thing, which may have just served (as with the day date with Ivan) to get our lead and at least two of her dudes semi-dressed on camera one last time. That night, Zac proves, once again, that he knows what's up, and tells Tayshia he's in love with her, which I believe either slightly ups the ante from what he told her last week or (at the very least) reiterates his feelings.
As you might imagine, Tayshia is also on the love train with Zac, and she tells him that before they spend the night in the fantasy suite.
The last date was reserved for one of Tayshia's long-time favorites: Brendan. Tayshia and Brendan are forced to go ring shopping and look at other diamond treasures with one Mr. Neil Lane himself. I haven't even seen this yet, obviously, but I don't like it. The show has been playing up how badly Brendan really does not want to have another marriage end in divorce, so you know there's going to be a lot of awkward nervousness during this date for him.
You're probably wondering where all of the surprises I talked about will come in, and we get one during the night portion of Brendan's date. Apparently, the early rumors that he'd leave of his own accord will turn out to be true, as Brendan will tell Tayshia that he thought he was ready to become engaged, but he still feels broken from his own divorce, so he hits the road. I suspect there will be lots of tears, y'all.
We get another surprise guest the next day, when Rachel Lindsay shows up to talk over the Final 2 (Ivan and Zac) with Tayshia. Rachel says that getting this close to the end will, naturally, remind the lead of anyone they've let go but had real feelings for, which leads to Tayshia talking about Ben Smith. Remember Ben? Of course you do; many of you were heartbroken when Tayshia let him go last week.
Well, come one, come all, because that takes us right into the arms of Big Surprise Number 2. When Tayshia's getting ready for the rose ceremony to pick her one, perfect man...BEN SHOWS UP AT HER DOOR. Does anyone else feel faint?
Ben came with the goods this time, and he tells Tayshia that he is, in fact, in love with her. Then (Damn them!), the episode ends with her leaving the man on her couch while she goes to have a chitty chat with the producers.
I. Am. Exhausted. And, while I'm sure all of you are, too, the ride ain't over. According to Reality Steve, there with be no live After the Final Rose tomorrow, but he doesn't know if that's because of how things turned out or if it's just due to pandemic reasons. In addition, he has no clue how the season truly ends, though he's pretty sure that Ivan does not end up being Tayshia's man. Steve's intel before the season started said that Tayshia will choose Zac, but that they won't get engaged, so that might be true. If it does turn out that she picked Zac, Steve still has no idea if they're currently in couple-land or have already called it quits.
You guys? I need a nap. Which is perfect timing, because I'm done with this article and can now take a break! Be sure to see what happens when Tayshia has her fantasy suite dates on The Bachelorette, tonight, Monday, December 21, at 8 p.m. EST on ABC!
Bachelor Nation, Gilmore Girl; will Vulcan nerve pinch pretty much anyone if prompted with cheese...Yes, even Jamie Fraser.
Your Daily Blend of Entertainment News
Thank you for signing up to CinemaBlend. You will receive a verification email shortly.
There was a problem. Please refresh the page and try again.