Despite Negative Toll Netflix's The Queen's Gambit Has Taken On Chess, There's A Positive As Well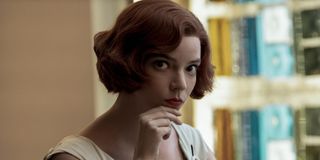 Netflix's The Queen's Gambit has seen a huge success since its release in early November, making a home on Netflix's top ten list. The miniseries starring Anya Taylor-Joy takes the seemingly "boring" sport of chess and turns into one of compelling drama of another time. Its success has unfortunately had some negative consequences for the real life chess world. Although cheating has been an issue since gaining popularity, the impact of The Queen's Gambit has overall been very positive on the world of chess.
According to Bloomberg, the chess world has seen an immense surge in interest and play since the release of The Queen's Gambit. Literally millions of new chess players are flocking to the sport on online play sites, creating a type of new age for the sport. That's what some A+ TV can do.
The surge did not start with The Queen's Gambit though. When COVID hit and the shut downs started happening a lot of people were met with more time in their hands than they've ever had. Those who used the time wisely picked up a new hobby or revisited old loves, chess being one. It started with retail - chess boards flying off the metaphorical shelves of Amazon and other online retail stores.
Once all the chess sets hit back order though, the online sites got hit. Those sites hosting chess matches like chess.com were seeing a million new users a month after the shut downs. This surge reportedly more than doubled after The Queen's Gambit took Netflix by storm, over 2 and a half million new players hitting the chess sites in the month of November alone. Unfortunately, it also resulted in some cheating with online gaming-- to the chagrin of the community.
Because all good thing come with a pitfall. With the millions of newcomers to the sport, online chess hosting sites have seen a spike in rule breaking. They have had to spend a good amount of resources to not only keep up with the massive influx of new accounts, but also to weed out the bad seeds. Chess.com has reported having to close well over 18,000 accounts due to cheating. Beth Harmon would not approve.
But on a more positive note, the type of people who are reaching for a chess piece (either by hand or a click of a button) has also changed due to the release of The Queen's Gambit. Since November, more women are turning to the game of chess. This is largely due to the show's empowerment of women in the sport, centered around the character of Beth Harmon, a chess prodigy who goes on to break records for women in the sport.
Here's an unexpected turn for chess lovers and players alike: streaming chess matches are on the rise. After COVID, chess tournaments around the world were canceled along with pretty much every other event. Since then professional chess players have taken to streaming sites such as Twitch, typically reserved for online video gamers, to bring in an income. New players who have found their love for the sport, either from COVID or from watching The Queen's Gambit, can now watch from the perspective of a professional player live on their own screen at home. If that was around back in Beth Harmon's day, The Queen's Gambit may have been a whole different show.
CinemaBlend will continue to stay updated on the future of The Queen's Gambit. In the meantime, check out our up to date list of what is dropping on Netflix in the coming weeks.
Constantly thinking about books, coffee, and the existential dread I feel from Bo Burnham's Inside. While writing I'm also raising a chaotic toddler, who may or may not have picked up personality traits from watching one too many episodes of Trailer Park Boys.
Your Daily Blend of Entertainment News
Thank you for signing up to CinemaBlend. You will receive a verification email shortly.
There was a problem. Please refresh the page and try again.