Chris Rock Admits He Wasn't A Good Enough Actor 10 Years Ago For The Roles He's Getting Now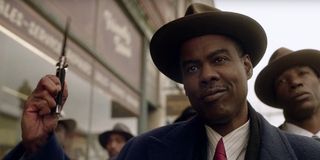 Chris Rock is making waves lately with something of a career switch-up. Having recently expressed his desires to play more interesting and serious roles, the longtime stand-up has had his wish granted. Rock turned in quite a serious performance on the small screen with his role as Loy Cannon, head of the Cannon crime family, in FX's Fargo, and he also had quite a bit to do with the creation of the new Saw spinoff Spiral, which he also stars in. In that light, he's spoken about changes in his career that allowed him to be able to bring justice to those kinds of roles.
In an interview with CBS News, Chris Rock looked back on his career and how his mental health and life experiences have had an impact on where he is now. He reflected on a time when he doesn't think he would have been good enough to pull off the roles he is getting now in his 50s, 30 years into his successful career. In his own words:
That life that Chris Rock lived was not necessarily the one he was anticipating, though. In the same interview, he spoke of his roots and what he thought his life was going to look like. He'd dropped out of high school in 10th grade, and was working at Red Lobster when he got his big break on SNL. If that breakthrough hadn't happened, he says he would have followed in his father's footsteps and become a truck driver, never to tell a joke again. On stage, anyway.
SNL can obviously be credited with launching a number of careers for comedians we all know and love, but to think that Chris Rock would have thrown in the towel if it weren't for the iconic comedy sketch show is unthinkable. Rock's career so far has been beyond notable, and the future looks even more bright for the comedy staple with his resume growing more versatile.
Chris Rock is not the only comedian who's turned into a serious actor; in fact, it seems to be an increasingly common occurrence for comedians later on in life. Whether the reason for this phenomenon is credited to, like Chris Rock believes, the backing of a rounded life experience, or just the mastery of one genre bleeding into another, it's an awesome thing to see. Some great work has come from a genre-swap like the one Rock is experiencing now, and we are here for it.
Chris Rock is set to star in Spiral later this year. Keep checking back with CinemaBlend for updates on Chris Rock's projects, and keep an eye on our Winter and Spring 2021 TV premiere schedule to see what else is heading to the small screen.