Disney+'s Ahsoka Tano TV Show: 5 Things We Need To See In The Star Wars Series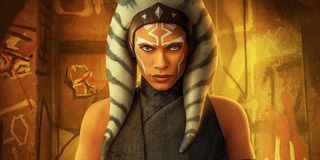 Lucasfilm has big plans for Star Wars' future on the small screen. The Mandalorian has become a runaway hit, so it was only natural that the studio would want to bring more shows to Disney+. Many of the series look promising, but one of the most exciting one on the massive slate is Ahsoka, which will see Rosario Dawson's Jedi Master take center stage. An Ahoska Tano-centric show opens the door to numerous possibilities and, with that in mind, there are several things we definitely need to see.
Ahsoka Tano has come a long way since her debut in 2008's Star Wars: The Clone Wars. She's had a varied history within Star Wars lore, so Disney+'s Ahsoka should highlight (and even resolve) key aspects of her journey that fans are clamoring to see more of. And we happen to have a few things in mind that should definitely find their way into the show. So without further ado, let's look at what we need to see in Ahsoka:
Ahsoka's Backstory Should Be Explored Even Further
Because Ahsoka is set within the timeline of The Mandalorian, the show won't be an origin story, but why not take the opportunity to shed more light on the titular hero's early history? Star Wars: The Clone Wars explained when and how Ahsoka was discovered by the Jedi Order. We've even learned how she acquired her Kyber crystal and built her lightsaber. Yet there are portions of her life that are still fuzzy, especially her Jedi training ahead of meeting Anakin Skywalker.
Ahsoka could provide additional information about the character's early years as a Jedi youngling. In the present, Tano is strong in the Force, but countering this with a flashback or two to her earliest experiences with the Force could be compelling. It would even be cool to see a scene of her as a young girl on Shili, before Jedi Master Plo Koon found her. An even better way to explore her past would be to somehow take Ahsoka back to her homeworld. Our pasts rarely ever leave us, and it would be interesting to see the Jedi come face to face with hers.
Memories Of Anakin Skywaker Should Play A Role In Ahsoka
Speaking of the past, Ahsoka holds the distinction of being the only Jedi to be trained by Jedi Knight Anakin Skywalker. Star Wars Rebels showed that Ahsoka still dwelled on her master, and she was shocked to learn that the kind man she once knew became Darth Vader. With Ahsoka taking place after the events of Return of the Jedi, it's unclear as to whether or not her master was redeemed. Regardless, it's fair to assume Tano still thinks about Anakin from time to time.
Anakin was a massive part of Ahsoka's development, and their relationship should be acknowledged here in some form. The Jedi could appear in a flashback or show up as a Force ghost. Either scenario would mark the first time Ahsoka and Anakin have ever appeared together in a live-action setting. And adding Anakin wouldn't be impossible, considering that Hayden Christensen is already returning for Obi-Wan Kenobi. It remains to be seen what Ahsoka knows of Vader's sacrifice but, if she's unaware, there is a way to give her closure. But more on that later.
A Showdown Between Ahsoka And Thrawn
What was probably most surprising about Ahsoka Tano's appearance on The Mandalorian is that she namedropped Star Wars Rebels villain Grand Admiral Thrawn. The character was last seen being sent into hyperspace in the Rebels series finale, though The Mandalorian makes one believe that he's somehow resurfaced.
The Mandalorian's Dave Filoni wouldn't have thrown in the Thrawn reference without a purpose, so the odds are good that he and Ahsoka will cross paths again at some point. Otherwise, the namedrop would seem pretty disappointing in retrospect. And Thrawn's return would not only add an intriguing plot point to Ahsoka, it could also help wrap up another lingering storyline.
Ahsoka And Sabine Wren Should Finally Find Ezra Bridger
When Thrawn was sent into hyperspace in Rebels, he wasn't alone. Young Jedi Ezra Bridger was with him, as he decided to sacrifice himself to ensure Thrawn was removed from the planet Lothal. The closing moments of Rebels later revealed that Ahsoka and Mandalorian Sabine Wren were setting off to look for Ezra. Producer Dave Filoni has remained coy regarding whether this search begins before or after Ahsoka appears on The Mandalorian but, either way, the door is finally open to tie up this loose end.
On the surface, this almost seems like a certainty, since Ahsoka has been searching for Thrawn. It would make sense that one of the reasons she's looking for the villain is to learn of Ezra's whereabouts. It remains to be seen if things will turn out this way, but it can't be denied that the pieces are certainly in place for this massive development. On a side note, who doesn't want to see Sabine Wren make her live-action debut in the Star Wars universe?
Ahsoka Tano And Luke Skywalker Should Finally Meet
Ahsoka was far from the only familiar face fans saw during The Mandalorian Season 2, and the jam-packed season was capped off with an appearance from Mark Hamill's Luke Skywalker. Ahsoka is fully aware that she's not the only Jedi still roaming around, though it's unclear as to whether she's actually crossed paths with the great Luke Skywalker. So why not allow them to finally meet in this new show?
At this point in the Star Wars timeline, Luke and Ahsoka are arguably the most powerful living Jedi, and they have to have at least heard about each other in passing. We don't necessarily need to see the two join forces or anything, it would just be fitting that the strongest Force-wielders of the era meet up in some way. Such a meeting would be cool to see, but it could also provide closure for Ahsoka where Anakin is concerned, in case she doesn't know her former master was redeemed.
Disney+ has not yet announced a release date for Ahsoka, so there's still plenty of time for speculation. However, one thing that is certain is that Dave Filoni and Jon Favreau likely have big plans for Ahsoka Tano's TV series.
But what else do you think we should see in Disney+'s Ahsoka? Let us know in the comments below! And be sure to keep it here at CinemaBlend for updates on the show and other news from the world of TV and movies.
Covering superheroes, sci-fi, comedy, and almost anything else in film and TV. I eat more pizza than the Teenage Mutant Ninja Turtles.
Your Daily Blend of Entertainment News
Thank you for signing up to CinemaBlend. You will receive a verification email shortly.
There was a problem. Please refresh the page and try again.