Logan Paul Responds To Rumors About His Floyd Mayweather Fight Purse And How Much He Will Make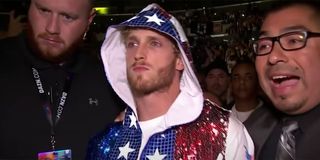 It's been a long few weeks of hearing how much Logan Paul is "actually" going to make for fighting Floyd Mayweather and the numbers related to the purse have varied wildly. Of course, after one journalist online seemingly spilled the beans, Logan Paul and his Impaulsive buddies ultimately decided to open up about the estimates, rumors and how much he is really making.
Here's the gist: It was previously rumored that Logan Paul would be making something along the lines of $200K and 2% of the PPV intake for his role in the fight. The rumor also stated Floyd Mayweather was alleged to be guaranteed $5 million with 50% of the PPV sales. If you know anything about professional boxing for a big name like Floyd Mayweather, that's a really low guaranteed number, though total intake always varies depending on how many people buy the fight.
Compared to Floyd Mayweather's much hyped previous fight against Conor McGregor, which reportedly garnered him a $100 million guarantee and ultimately a $300 million paycheck when all was said and done, these are low numbers overall. Of course, Logan Paul isn't a pro boxer and so his match against an ageing Floyd Mayweather should have a different sort of entertainment value. Therefore, I guess people were believing those rumored numbers, much to what seems to be the gang's amusement, as they joked about it extensively on the podcast before getting down to the nitty gritty.
Interestingly, Logan Paul's buddy Mike Majlak was seemingly totally fine with spilling the beans to Logan Paul's fans. During a recent Impaulsive podcast episode he said "fuck, you aren't gonna say it, eight figures," to which Logan Paul definitely looked a little uncomfortable. That news came after Majlak admitted he'd mentioned the number on his Twitch, and fans who watched that have said it's like $10 million he's making, which would square with the eight figures number: $10,000,000. It's unclear if true if this would be Logan's Pauls' guaranteed take or what they are estimating he will make based on the rate of people signing up for the PPV fight.
As for whatever the honest answer in regards to Logan Paul and what the actual purse for the match ends up being, there is one thing he is being candid about: just how flipping cool it will be to fight Floyd Mayweather. In fact, he revealed on his podcast he'd do it for free.
Part of the reason the rumored numbers were so believable likely ties in with what Logan Paul says above, which is that the whole thing is good press for the YouTube star. It also makes more sense that Floyd Mayweather would be making more money in the fight, given Mayweather is the bigger draw here and that Logan Paul is not a professional boxer, though he does have some experience.
The match itself is currently going for $59.99 if you want to pre-order it, though those numbers are going to go up to $69.99 on February 11--which means more money in Floyd Mayweather and Logan Paul's pockets. The actual fight will be on February 20th. See you there.
Your Daily Blend of Entertainment News
Reality TV fan with a pinch of Disney fairy dust thrown in. Theme park junkie. If you've created a rom-com I've probably watched it.