10 True Crime Series To Watch If You Liked Netflix's Night Stalker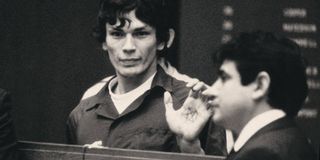 CinemaBlend participates in affiliate programs with various companies. We may earn a commission when you click on or make purchases via links.
There are true crime docuseries out there and then there are ones like Night Stalker, the 2021 Netflix series detailing the heinous crimes of one of California's most notorious and fearsome criminals that preyed on the residents of Los Angeles and San Francisco between June 1984 and August 1985 before finally being revealed as Richard Ramirez. But after blowing through the series' four episodes and locking your windows and doors, some of you may be looking for other true crime docuseries, specifically those concerning serial killers, to stream right now.
We live in an age where there are more true crime documentaries and docuseries (both new cases and those from decades ago) than ever before thanks in part to the abundance of streaming services which, in a sense, has created a golden age for the format and allowed even more stories to be told in a way that wasn't possible on traditional television networks. Stories grim and gory, tales of killers preying on the fear of their victims, and examinations of what transformed seemingly normal people into vicious, cold-blooded murderers. Here are 10 of those series that you can stream right now.
I'll Be Gone In The Dark (HBO Max)
The 2020 HBO docuseries I'll Be Gone in the Dark documents not only the various crimes of Joseph DeAngelo (The Golden State Killer, Visalia Ransacker, East Area Rapist, Original Night Stalker) throughout multiple communities in California, it also follows the story of Michelle McNamara, the true crime writer who dedicated much of her final years on Earth to bringing the former police officer to justice.
If you are a fan of Night Stalker's approach to detailing each of the crimes by Richard Ramirez and the detectives on his trail, then I'll Be Gone in the Dark is a must-watch (if you haven't watched it already). And plus, the two killers have a shared name: The Night Stalker although Joseph DeAngelo was later referred to as The Original Night Stalker once Ramirez took on the moniker.
Stream it on HBO Max here.
BTK: Chasing A Killer (Discovery+)
For three decades, Dennis Rader, aka The BTK Killer kept the city of Wichita, Kansas, in a perpetual state of fear as he bound, tortured, and killed 10 victims between January 1974 and January 1991. The three-part docuseries BTK: Chasing a Serial Killer follows Rader's journey from a mild-mannered ADT Security technician with a closet of skeletons to one of the most notorious figures in the history of American crime.
Although BTK: Chasing a Killer doesn't have the flash and style of Night Stalker, the ID docuseries is a great watch for those that enjoyed the Netflix series' attention to details, no matter how grim they may be. The three-parter also does a rather convincing job at portraying the fear The BTK Killer brought to the town he called home for all those years.
Stream it on Discovery+ here.
Crimes Of The Century (HBO Max)
Produced by CNN Films, Crimes of the Century is an eight-part docuseries focusing on the incidents like the Oklahoma City Bombing, Waco, the attempted assassination of Ronald Reagan, the DC Sniper, and others. Each 44-minute episode breaks down the lives of the people who orchestrated the crimes as well as the crimes themselves.
While all of the episodes are great in their own way, the series opener, which documents the series of shootings carried out by John Allen Muhammad and Lee Boyd Malvo in the Washington, D.C. area over the course of three weeks in October 2002, is especially a good watch for anyone who like Night Stalker's depiction of a deranged killer seemingly killing victims at random.
Stream it on HBO Max here.
Conversations With A Killer: The Ted Bundy Tapes (Netflix)
Premiering on January 24, 2019, the 30th anniversary of Ted Bundy's execution, Conversations with a Killer: The Ted Bundy Tapes combines recordings of the infamous murderer with archival footage and other interviews to piece together one of the darkest crime sprees in American history.
Much like Netflix's most recent true crime series, Conversations with a Killer takes an incredibly deep look at what drove Ted Bundy to claim the lives of as many as 30 people over the course of four years and become synonymous with the term sociopath. And much like Night Stalker, much of what is shown and discussed here is extremely hard to watch.
Stream it on Netflix here.
Atlanta's Missing Children (HBO Max)
The saga of the Atlanta child murders was a major part of Mindhunter Season 2, but the story is told in greater detail in the 2020 HBO documentary series Atlanta's Missing and Murdered: The Lost Children, which examines the dark period in the southern metropolis between 1979 and 1981 that saw the deaths of at least 28 children.
Just like Night Stalker, the HBO docuseries about one of the darkest chapters in the history of Atlanta focuses on the impact that crime can have on not only the adults and parents in a community but also children and tries to find reason to heinous crimes committed against children by deranged individuals.
Stream it on HBO Max here.
Who Killed Garrett Phillips? (HBO Max)
The 2019 two-part documentary series Who Killed Garrett Phillips? follows the aftermath of the 2011 murder of a 12-year-old boy that remains unsolved a decade later. Over the course of the series, several leads (both those pursued by police and those overlooked) are explored, including Oral "Nick" Hillary, the ex-boyfriend of Phillips' mother and prime suspect in the case.
If you liked the procedural side of Night Stalker then Who Killed Garrett Phillips? should be right up your alley. And while the detectives pursing the case here don't come off as honest or credible as those featured in the Netflix series, the series' producers treat the case with a great deal of care and consideration for all involved parties.
Stream it on HBO Max here.
The Most Dangerous Game Of All (Hulu)
We may never fully know the true identity of the Zodiac killer, but The Most Dangerous Game of All follows the odyssey of a man convinced that not only does he know who is responsible for the series of murders carried out in San Francisco Bay area but that the man is father, a father who abandoned him as a young child.
This FX docuseries is much different than Night Stalker in just about every way, but its focus on one of the many serial killers to treat California as a personal playground of murder in the 20th Century makes it a perfect addition to your binge of great true crime documentaries that happen to be based around the exploits of a vicious criminal.
Stream it on Hulu here.
The Ripper (Netflix)
In 2020, Netflix released the four-part docuseries The Ripper, which chronicles the exploits of Peter Sutcliffe, known by his moniker the Yorkshire Ripper, who between 1975 and 1980 was responsible for the murder of 13 women in West Yorkshire and Manchester, England.
Much like Night Stalker, which would be released the following year, The Ripper follows the story of one of the largest manhunts in 20th Century crime. And also like the story of Richard Ramirez, this documentary series paints Peter Sutcliffe as a vicious, troubled, and eccentric killer.
Stream it on Netflix here.
Don't Fuck With Cats: Hunting An Internet Killer (Netflix)
The 2019 Netflix docuseries Don't Fuck with Cats: Hunting an Internet Killer starts off with internet sleuths attempting to get to the bottom of the killing of a cat but soon find themselves on the tail of a killer who might be playing a sick game with them in the process.
Much like Night Stalker, Don't Fuck with Cats is a sick and twisted affair that dives into a straight up lunatic with an obsession with striking fear in the hearts of his victims and those seeking him out. Combine that with amateur detectives seeking him out only to cause him to turn things up a notch because of the notoriety they bring, and you have yourself a recipe for disaster.
Stream it on Netflix here.
The Confession Killer (Netflix)
Henry Lee Lucas was convicted of murdering 11 people between 1960 and 1983, but what makes his case so strange is his confession of murdering 100 additional victims while in prison. Lucas and his wild claims are the subject of a 2019 docuseries The Confession Killer, which looks into the man, the myth, and the legend of one of the strangest investigations in modern crime history.
If you enjoyed Night Stalker and its handling of investigations into murders and the persons involved, then The Confession Killer should serve as a nice followup. And while their subjects don't have much in common, the series' investigation into Henry Lee Lucas and his purported crimes is something to behold.
Stream it on Netflix here.
These are just a few of the true crime documentary series for those who really liked Night Stalker. While each of these series tell different stories from various time periods, each of them focus on the disturbed nature of killers, their actions, and those who sought them out to bring them to justice.
Make sure to sound off in the comments below and let everyone know which one was your favorite or if a docuseries you really like didn't make the cut. And don't forget to lock your doors and check your windows at night.
Philip grew up in Louisiana (not New Orleans) before moving to St. Louis after graduating from Louisiana State University-Shreveport. When he's not writing about movies or television, Philip can be found being chased by his three kids, telling his dogs to stop yelling at the mailman, or yelling about professional wrestling to his wife. If the stars properly align, he will talk about For Love Of The Game being the best baseball movie of all time.
Your Daily Blend of Entertainment News
Thank you for signing up to CinemaBlend. You will receive a verification email shortly.
There was a problem. Please refresh the page and try again.