How Grey's Anatomy Actress Jessica Capshaw Got Fans Into A Tizzy About Arizona's Possible Return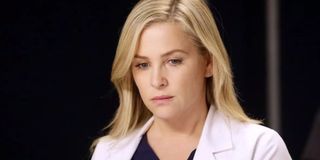 (Image credit: ABC)
Grey's Anatomy has cycled through a whole lot of series regulars over 17 seasons so far, but one of the biggest departures of recent years was Jessica Capshaw as Dr. Arizona Robbins. Unlike some of the departed characters who returned this season during Meredith's COVID dreams, Arizona got to leave alive, well, and potentially on the way to rebuild her family in New York. Now, however, Capshaw has fans worked up about Arizona possibly returning to Grey's Anatomy.
Jessica Capshaw got fans talking with a recent post on Instagram. Although she wasn't decked out in scrubs or back on the Grey Sloan set, something about her outfit sparked the speculation. Take a look:
Interesting! Jessica Capshaw's caption indicates that she was in sunny California, but the t-shirt showing off New York City understandably got Grey's Anatomy fans thinking about Arizona and her decision to head to the Big Apple when Capshaw was written out at the end of Season 14. Just because Arizona left to be with Callie and their daughter in New York doesn't mean she can't come back, and Capshaw had glowing words for the show when it hit a milestone even after she left.
That said, a t-shirt isn't proof of anything other than that's what Jessica Capshaw felt like wearing earlier this month, and I for one have plenty of t-shirts that don't pack any deep meaning. And, if there was nothing else to go on, fewer people might have been commenting that Arizona could be on her way back to Grey's Anatomy, but there is in fact more.
Members of the Grey's Anatomy cast participated in an episode of People's Stars in the House, with Chandra Wilson (who deserves her own game show), James Pickens Jr, and Kelly McCreary as the top-billed stars. The episode also featured other familiar Grey's faces, however, including none other than Jessica Capshaw.
Considering Grey's Anatomy is currently in its winter hiatus for Season 17, Jessica Capshaw has been absent from the show for more than two full seasons, so a reappearance here could conceivably mean a reappearance on the show. During the Stars in the House episode, which streamed on January 14, Capshaw revealed that she "just got home from work" in Atlanta, and she introduced herself via video stream to Chris Carmack, who didn't join Grey's as Link until after Arizona was written out.
So, if Jessica Capshaw is returning to Grey's Anatomy in Season 17, either she hasn't filmed anything so far or she and the rest of the cast are very good liars. Then again, Grey's Anatomy was one of 16 shows that Deadline reported delayed returning to production after the holiday break due to a COVID-19 surge in Los Angeles County. At the time, production was intended to begin again on January 18, so Capshaw not filming for Season 17 so far doesn't mean that she won't at some point.
It's hard to consider a potential return for Jessica Capshaw's Arizona without considering Sara Ramirez's Callie. The two were set to reunite (off-screen) following the Season 14 finale, and Ramirez has indicated that she's willing to reprise her role as well. Capshaw also wasn't the only series regular written out at the end of Season 14, which sparked speculation that they were cut due to Ellen Pompeo's big promotion, although Pompeo denied that, and Arizona and April were written out for story reasons.
Only time will tell if Jessica Capshaw returns to Grey's Anatomy in Season 17, but the show won't actually be back in 2021 for a while still. You can always relive her time as Arizona Robbins with the first 16 seasons of Grey's streaming on Netflix now.
Resident of One Chicago, Bachelor Nation, and Cleveland. Has opinions about crossovers, Star Wars, and superheroes. Will not time travel.
Your Daily Blend of Entertainment News
Thank you for signing up to CinemaBlend. You will receive a verification email shortly.
There was a problem. Please refresh the page and try again.