Grey's Anatomy's Chandra Wilson Deserves Her Own Game Show After Celebrity Wheel Of Fortune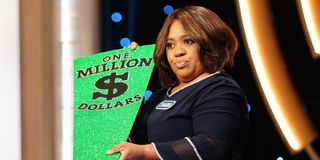 Spoilers ahead for the series premiere of Celebrity Wheel of Fortune on ABC.
Wheel of Fortune made its primetime debut on January 7 when the stars rolled out for the series premiere of Celebrity Wheel of Fortune. Hosts Pat Sajak and Vanna White welcomed ABC familiar faces Chandra Wilson of Grey's Anatomy and Leslie Jones of Supermarket Sweep, along with skateboarding legend (and Wheel of Fortune app fan) Tony Hawk. While it was a fun episode all around with the celebrities trying and only occasionally succeeding at solving the puzzles, my biggest impression after the premiere was that Chandra Wilson needs her own game show.
Prior to Celebrity Wheel of Fortune, I really only knew Chandra Wilson for her Emmy-nominated role as Dr. Miranda Bailey on Grey's Anatomy, where she stands as one of the few stars who has stuck around the hit medical series for all 17 seasons so far. Grey's Anatomy is far from a comedy, and Wilson definitely isn't playing herself as Bailey, so I had no idea just how much fun she could be when bantering on a game show rather than performing TV surgery in scrubs. She was just such a joy on Celebrity Wheel of Fortune!
That's not to say that she won this episode of Celebrity Wheel of Fortune. In fact, Chandra Wilson came in last behind Tony Hawk and Leslie Jones, although it's worth noting that some of Hawk's big puzzle solves only came after Wilson figured out most of the letters for him. She still won $30,000 for the Los Angeles Regional Food Bank thanks to the minimum for the celebrity charity version of the show, and coming in third didn't dampen her spirits or stop her from having some fun that was positively contagious.
Chandra Wilson's banter with Pat Sajak and Vanna White as well as Leslie Jones kept the show dynamic and funny, and her back-and-forth with Tony Hawk every time he reaped the benefits of her guesses was definitely entertaining. Besides, we're in an era of TV reboots and revivals, with Leslie Jones herself hosting a reboot of Supermarket Sweep on ABC. And honestly, I don't even have a particular game show in mind for Wilson.
While there are always candidates like The Newlywed Game and 1 vs. 100 that have the name recognition to possibly succeed in primetime, I'd watch a Chandra Wilson reboot of Legends of the Hidden Temple if it meant a repeat of what she delivered as a guest on Celebrity Wheel of Fortune. Sure, hosting a game show would be a whole different endeavor than appearing as a guest, but I would totally give a Chandra Wilson game show a shot. Besides, ABC knows what she is capable of after nearly two decades as a regular on Grey's Anatomy.
Of course, I wouldn't want a game show to take her away from Grey's Anatomy, so I'm not pitching that she take over a syndicated series like Drew Carey (who also will appear on Celebrity Wheel of Fortune) did with The Price is Right, but I have to believe that it's possible for her to land a series of some sort.
We can use all the fun we can get right about now, right? At the very least, I'm on board to see Chandra Wilson drop by game shows more often, or even join Leslie Jones on Supermarket Sweep every once in a while. Those two were just great together on this edition of Wheel of Fortune.
For now, you can look forward to Chandra Wilson's dramatic return to primetime when Grey's Anatomy makes its 2021 premiere on Thursday, March 4 at 9 p.m. ET on ABC. If you're still figuring out what to watch and when to watch in the new year, be sure to check out our 2021 winter and spring premiere schedule. New episodes of Celebrity Wheel of Fortune will continue to air on Thursdays at 8 p.m. ET on ABC during the coming weeks.
Resident of One Chicago, Bachelor Nation, and Cleveland. Has opinions about crossovers, Star Wars, and superheroes. Will not time travel.
Your Daily Blend of Entertainment News
Thank you for signing up to CinemaBlend. You will receive a verification email shortly.
There was a problem. Please refresh the page and try again.