Kanye West Allegedly Not Thrilled, But We May Now Know Why Kim Kardashian Divorce Is Not Official Yet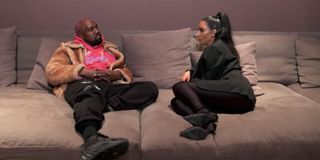 In the saga of Kim Kardashian and Kanye West, things seem to be approaching a natural endpoint. After months of hearing about alleged couples counseling and all sorts of other drama between Kimye, the latest news had been that the couple is at divorce's door. However, then a funny thing happened. Nothing moved forward in terms of any official divorce news. We heard Kim and Kanye were calling it splitsville and then absolutely no changes were publicly made. It was all smoke and mirrors after the initial reports broke.
However, this week, Page Six talked to some of the people with knowledge regarding the upcoming season of the Kardashian family's original bread and butter Keeping Up with the Kardashians. According to a report over at that outlet, Kim Kardashian and Kanye West's marriage struggles are about to play out in full force in the final season of the show. If that's true, it could explain why news of what's going on with the split and negotiations hasn't broken wider: Kim K. may be trying to play it cool for the sake of ratings down the line.
As you may know, what happens on Keeping Up with the Kardashians is always a few months behind whatever is going on on Kim Kardashian, Kylie Jenner, Kris Jenner, Kendall Jenner, and Khloe Kardashian's social media feeds and in their personal lives. If they go on a cool vacation, we may see it play out on the small screen a few months later. This is true of the drama in their personal lives as well, as past episodes of the E! reality series have shown things like Khloe Kardashian's split from Tristan Thompson and more months after they happened in real life.
This time around, Page Six says the Kardashians want to go out on cable with a notable run. With that in mind, the biggest drama in anyone's life who is involved with the show right now has to be what is going on between Kim Kardashian and Kanye West. The insider noted the show "the Kardashians intend to go out with a bang" and that Kim's big marriage issues are going to be front and center. The reason we haven't heard much about it now is allegedly because nondisclosure agreements were involved.
But there's more. After the initial insider info broke, a separate scoop over at US Weekly revealed that Kanye West is none too pleased with what will be going on with Keeping Up with the Kardashians in its final season. Kanye West is said to be "less than thrilled" with the end of his marriage playing out on television. West used to only appear sporadically on the series, though there was a period on the E! show when he was around more late in its run. Before his issues with Kim K., of course. Now those will be front and center, we'll have to wait and see if his person is.
That outlet also notes Kim Kardashian is just waiting to officially file for divorce now because she wants all of herself and Kanye West's ducks in a row before things get formal. The two have allegedly been working on settlements for a few weeks following that reported bang out fight the two had in December that may have marked the real end point with their marriage, though the couple had troubles since at least July of 2020 and had been living "separate lives." In fact, if Kardashian West had her way, the news about their impending divorce would allegedly not have even leaked yet.
So, which is it? A giant mistake that the news leaked before Kim Kardashian and Kanye West were ready to make the announcement or part of a larger ploy to get people to tune in to the final season of Keeping up with the Kardashians? It may be impossible for both to be true but we know one thing: the couple quit going to couples counseling together a short while ago. If that's not a sign that a major change is coming, I'm not sure what is.
Your Daily Blend of Entertainment News
Reality TV fan with a pinch of Disney fairy dust thrown in. Theme park junkie. If you've created a rom-com I've probably watched it.