Kanye West Moved His Giant Sneaker Collection Out Of Kim Kardashian's Home, But Is That Actually Connected To Divorce?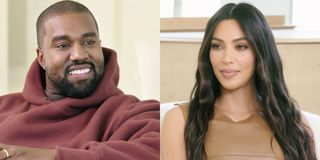 It's been a long few weeks of hearing speculation in regards to the maybe, allegedly, currently pending Kanye West and Kim Kardashian divorce. The two are living apart right now, and earlier this month, Kanye West even sent someone to Kardashian's famous Calabasas property to pick up his huge collection of sneakers. While all signs are pointing to the not-so-hushed "divorce" word, is the sneaker thing as telling as it seems?
Kanye West is a noted sneaker wearer. He owns his own very famous line of shoes with his Yeezy brand and his personal collection includes more that 500 pairs of sneakers. These are rare, expensive footwear items and I'm sure Kanye West would not want to lose even one pair in a divorce, like that poor soul in Nick Hornby's High Fidelity who had his entire rare collection of records sold by a mad ex when he decided to split.
I'm not saying Kim Kardashian would even do that, but there may be a secondary reason that Kanye West decided to move his shoes. He and Kim Kardashian have been living in separate households. Kanye West has lately been holed up in Wyoming on his ranch while Kim Kardashian and the kids have been in Calabasas when not on trips.
Page Six broke the news, indicating that Kanye West was reportedly given some time to shift some items out of the home while Kim Kardashian went to Turks and Caicos. A separate report on Hollywood Life though intimates that the move for the sneakers may have been less about removing Kanye West's presence in Kim's Kardashian-West's home and more about Kanye really wanting his sneakers back in his life. That report alleged "there's nothing for them to fight about" right now.
Two things can be true at once. Kanye West could simply want his sneakers and it could also have been a convenient time for him to send somewhere to nab his belongings as part of ongoing preparation for a possible divorce. One thing is worth noting though: Kim Kardashian and Kanye West have not officially filed for divorce yet.
The rumor mill has indicated this could be part of an elaborate plan to make the last season of Keeping up with the Kardashians even splashier than it might have been otherwise. In that case, Kanye West holing up in Wyoming and refusing to participate in the countdown of the final episodes might be telling, with some reports alleging he's ready to file even if Kim Kardashian would prefer to wait.
Meanwhile, Kim Kardashian was recently addressing another controversy about whether or not her 7-year-old might have actually painted a very good example of an oil painting in art class -- you can't make this stuff up -- and did share a throwback to some of "daddy's" art work in a rare Instagram Stories post showing their family ties.
Of course, even if Kim Kardashian and Kanye West divorce they will still be co-parents, but she didn't have to play nice and include a post of Kanye's in defense of her kids artwork on social media. Like many relationships, this one seems to be complicated, but at least we know for certain how Kanye got his shoes back.
Reality TV fan with a pinch of Disney fairy dust thrown in. Theme park junkie. If you've created a rom-com I've probably watched it.
Your Daily Blend of Entertainment News
Thank you for signing up to CinemaBlend. You will receive a verification email shortly.
There was a problem. Please refresh the page and try again.