William Shatner Reveals The Only Way He Would 'Consider' Returning To Star Trek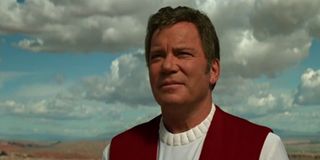 There are few actors as iconic as William Shatner in the science fiction genre. Over the course of his seven-decade-long career he has appeared in multiple sci-fi cornerstones, including The Twilight Zone, TekWar, 3rd Rock from the Sun and, most famously, the Star Trek franchise. His portrayal of Captain James T. Kirk captivated audiences across television and film for a long time, but it's been over 25 years since he last appeared on screen as captain of the USS Enterprise, and he hasn't sounded all that enthused about ever returning. However, the actor has revealed the only way that he would consider reprising his most famous role.
In a recent interview with Inverse, William Shatner noted that he is not necessarily 100% against the idea of reprising the role of James T. Kirk, but the creative team involved would have to follow some pretty specific parameters in place for him to agree. In his words:
The Star Trek legend seemed to leave the door partially open for a Kirk-ian comeback, mentioning that it's not out of the question. There would have to be an interesting story behind the character's return beyond just nostalgia, and it would need to be logical as well. Plus, Shatner also mentioned that he is currently busy enough with his own projects, and that he'd be fine leaving his Star Trek ties in the past.
William Shatner is currently serving as the host of the History Channel's The UnXplained, where he explores some of the great mysteries surround mankind and the world around us. He's also recently appeared on an episode of Ancient Aliens alongside some of the foremost experts on the existence of extraterrestrials, as it were. Shatner definitely still has a curious mind, which is the kind of thing that Star Trek inspired.
While an appearance on Star Trek: Picard or Discovery may not be in the immediate future for Shatner, the actor and producer has been keeping fans entertained with multiple self-quarantine updates to the tune of James T. Kirk's famous captain's logs. If that's the closest we'll ever get, it was still worth it.
Despite William Shatner's absence since his final performance in Star Trek Generations, role reprisals in this franchise aren't all that uncommon. Since last year, fellow Star Trek veteren Patrick Stewart has been leading his own show, the previously mentioned Star Trek: Picard, on CBS All Access (soon to be rebranded as Paramount +).
The streaming service has fully revived the franchise with prequel show Star Trek: Discovery, set ten years before the original Star Trek series, as its flagship original. With so many spin-offs of the legendary franchise being developed just in recent years, I wouldn't be surprised if there was a spec script floating around that expertly sets up the return of James T. Kirk. But like William Shatner said, it has to be pretty damn good to get him back on board.
Star Trek: Discovery was recently renewed for it's fourth season at CBS All Access, and the streaming platform also announced another spin-off prequel series, Star Trek: Strange New Worlds, that will follow fan-favorites from the USS Enterprise before the introduction of Captain Kirk.
Fans of the series can check out the entire catalogue of the latest from the Star Trek franchise at CBS All Access, or Paramount Plus when the service's rebranding officially launches on March 4th. As for Shatner's return, it looks unlikely but anything is possible, especially in Star Trek. All we can do in the meantime is cross our fingers. Well, that or throw up the Vulcan salute, I'll leave it up to you.
Your Daily Blend of Entertainment News
Into tracksuits by Paulie Walnuts, the Criterion Channel and Robert Eggers.