Flora And Ulysses Director Lena Khan Reveals How Disney Is Giving Female And Minority Directors More Representation In The Industry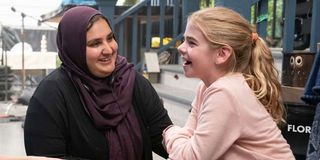 (Image credit: Photo courtesy of Disney+)
Disney's Flora & Ulysses is a movie about a little girl and one incredible squirrel. That may not seem on the surface to have a lot to do with minority representation or the push in the industry to bring in more points of view, but in fact it does. Ahead of the film's release, director Lena Khan talked spearheading a large film as a person of color and how Disney really helped to lay out a path for her and other female and minority directors to start growing their careers and be more evenly represented in the industry.
You may not be familiar with Lena Khan's name ahead of the release of Flora & Ulysses (though kudos if you are). The Canadian-American director debuted her first longform movie The Tiger Hunter in 2016 and was signed on to begin working on Flora & Ulysses a couple of years later in 2018. Now, ahead of the release of the family film, she spoke with CinemaBlend and other journalists on the set of the Disney+ film to discuss how she approached her career as a director and as a person of color.
Khan is extremely cognizant both of what landing a Disney+ gig will mean for her career personally but what it can mean for women behind the camera in the industry. According to Lena Khan, Disney has been fundamental in helping her and people like her to achieve those goals.
It wasn't just the opportunity to be a person of color helming a big movie set for the Disney+ streaming service when it is still new to the business. Lena Khan also told us that this movie in particular was a movie that "hit home" for her, even though it's about a little girl and a crafty, special squirrel. She noted "[the movie] tries very hard in terms of both gender and race," but that she was even surprised to learn a few times, "Wow, you can do that in a Disney project?"
Quite frankly, Flora & Ulysses, based on an award-winning book by The Tale of Despereaux's Kate DiCamillo is an emotional story about family, about divorce, even about misunderstandings between adults and children. There's some complex stuff there, and the film has been described as "live-action" version of a Pixar film. Granted, there were some moments written into the book that was lightened in the film. Flora's mother is a smoker in the books and obsessed with lollipops in the movie, for example. With some minor changes, Flora and Ulysses was a perfect fit for Khan, who says she approached the gig from "an activism" standpoint.
Lena Khan went on to tell CinemaBlend and other outlets that these are all things that are not actually focal points in her day-to-day. She's much more concerned about getting "a nice transition out" with a scene and honing in on all of the details she needs to be thinking about to helm a movie with a budget of more than a million dollars for the first time. Yet she says she's certainly cognizant of the opportunity and how it will hopefully open doors to tell more diverse stories down the line, just ask has happened with Marvel and other Disney brands as they've expanded the search for directors.
For now, you can see her work in Flora and Ulysses, a film Disney+ actually conceived to go straight to the streaming service --unlike some of the Disney movies we've caught there over the past year. You can check it our for yourself soon, as it will be available for subscribers to stream starting on February 19.
Reality TV fan with a pinch of Disney fairy dust thrown in. Theme park junkie. If you've created a rom-com I've probably watched it.
Your Daily Blend of Entertainment News
Thank you for signing up to CinemaBlend. You will receive a verification email shortly.
There was a problem. Please refresh the page and try again.