G4 Has A Huge Announcement, So Of Course We Interviewed Ratty To Find Out More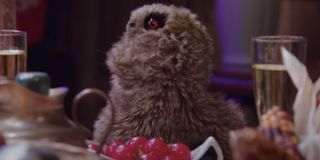 After years of lurking in the shadows since its doors were shut and monitors turned off, leaving several interns stuck in the building to fend for themselves, G4 is coming back to TV bigger than ever! Planned for a summer relaunch, the legendary gaming network is slowly teasing itself as a new and improved experience, while sticking to the conventional knowledge that the more things change, the more they stay the same. To that end, G4 dropped a pretty big announcement revealing which hosts old and new will be part of the brand's campaign to recapture greatness. Naturally, I thought it prudent to talk to the one party that could give us the inside track: Ratty Puppet.
Yes, Ratty is still alive and well. Having escaped the clutches of demented former G4 intern/comedian Ron Funches after last year's A Very Special G4 Reunion event, Ratty is enjoying his freedom, with the famed bottle of G4 Rot Gut still standing on his side table. I was granted the opportunity to talk to this hard-living rodent to get the scoop on who's going to be hosting revamped shows like X-Play and Attack of the Show. And fans of the old school G4 are going to be pleased to know that legacy co-host Adam Sessler and Kevin Pereira are in fact returning to their posts!
Ratty didn't seem to know that at the time, as he was under the impression that both Adam Sessler and Kevin Pereira were deceased. (A common mistake for puppets to make.) I asked him who he'd miss torturing on the G4 lot, as well as who he looked forward to bumping elbows with in the new era, and Ratty answered with:
I'm uncertain where he got that information, especially since G4 was kind enough to provide a press release announcing their return prior to our discussion. Even in his temporary misinformation, Ratty's reflection on both Sessler and Pereira sounded heartfelt, despite the fact that he was corrected moments later.
Both of the classic shows X-Play and Attack of the Show were previously announced to be returning to the G4 lineup as part of the hype machine surrounding this big event. But while they'd previously served as a key place for gamers to learn about latest releases and phenomenons floating around on the internet, we live in a world of Twitch streams, Discord, and an evolved form of YouTube, so both shows will have to prove themselves superior in a more competitive entertainment marketplace. So leave it to trusted friends like Adam Sessler and Kevin Pereira to be among those to open the gates for G4's third act of life. (At least, it's the third if you count the TechTV period before formats were switched.)
So with the Sessler/Pereira paradigm in play, can we expect any other old friends to come back to G4? Surely X-Play co-host Morgan Webb, Attack of the Show co-host and X-Men: Apocalypse star Olivia Munn, or even American Idol contestant-turned-G4 host Kristin Adams would be on deck for potential returns, right? Well, despite the fact that Ratty was a bit cagey involving a restraining order with Ms. Adams, he did have an official statement on what to expect when it comes to G4's upcoming strategy:
That's right folks, we're not out of the woods just yet. Though, speaking of "woods," there are some new kids on the G4 block! Though some will know him best as the WWE's Austin Creed, new G4 host and internet gaming personality Xavier Woods is set to become one of the fresh faces lifting up the network's return. In addition, the brand new project The BLEEP ESports Show will be hosted by network newcomers Ovilee May and Froskurinn, who will deliver gaming news and profanity to the masses, first through G4's pre-launch social media presence. As G4's last era came to a close as ESports fandom was on the rise, the decision to make it an integral part of their relaunch was a shrewd one, and kind of an essential piece to the puzzle.
Ratty was nothing but kind to all the newbs, saying:
You've read it here first, at least if you've just started reading this morning: Xavier Woods is that kind of a nicer-than-nice guy, and it's enough to make a bitter, twisted soul like Ratty want to throw up and die. But as G4 rises again like a pixelated phoenix from the ashes of what was once the Esquire Network, we hope this rambunctious rodent stays alive and well with a bottle of Rot Gut in one hand, and a controller from his system of choice in the other, ready to rock and roll again.
Take a look at the network's big announcement video confirming some of the details shared above, only with the visual skill and panache that a polished brand on the cusp of reinvention could provide:
Summer 2021 can't come fast enough, and we'll be keeping our eyes and ears open for more G4 madness in the months to come! Should you want to get your fill, you can head to G4's YouTube channel and enjoy their B4G4 lineup as a warmup. Oh, and television personality/former G4 host Chris Hardwick, if you're reading this: you still owe Ratty for that long-ago Korean barbecue that you split the bill over.
Senior Movies Contributor
CinemaBlend's James Bond (expert). Also versed in Large Scale Aggressors, time travel, and Guillermo del Toro. He fights for The User.