Will The Falcon And The Winter Soldier Actually Kill Off Steve Rogers Before Handling Captain America Drama?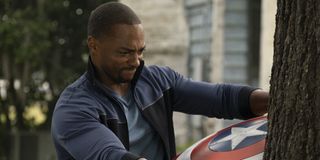 When Marvel Studios' WandaVision wraps up its wonderfully weird and exciting story in just a few weeks, Marvel Cinematic Universe fans will be able to look forward to The Falcon and the Winter Soldier. The show seems to be a bit faster and funnier than its predecessor, but that doesn't mean it will be without some heavier moments. The latest TV spot, which has Sam Wilson quoting one of Steve Rogers' key sayings, is all the evidence you need of that. Now, we have a few more cool stills from the show, which shed just a bit more light on the series. But one particular image has me asking if Captain America will be killed off ahead of the drama involving the shield.
Disney+ recently released a number of new photos from The Falcon and the Winter Soldier. The snapshots tease several scenes, which mostly appear to include exchanges between Sam Wilson and Bucky Barnes. However, one that arguably catches the eye above the others is one that shows Wilson wearing a suit and solemnly looking over the star-spangled shield that once belonged to Steve Rogers. Check it out for yourself down below:
While we certainly don't have complete context for this scene, at first glance, Anthony Mackie's Sam Wilson does seem to be sporting attire that would be worn to a funeral. And he doesn't look too happy while staring at the iconic weapon. Other trailers have shown Wilson wearing the same suit and holding the shield. Only in that instance, he was in a public place and gazing upon a mural of Steve Rogers, which could further hint at some kind of public memorial for Rogers.
What's even more interesting is that the newly released images also confirmed the identity of Adepero Oduye's character. She'll be playing none other than Sam Wilson's sister, Sarah. You can get your first look at Oduye in the role in the following behind-the-scenes image:
It goes without saying that Sam Wilson will be going through quite a bit when we see him in The Falcon and the Winter Soldier. So could it be possible that Sarah arrives to help him as he decides whether or not he wants to be Cap? And could her presence also be further evidence of Steve's death? There's always the chance she's also there to help Sam process his grief. And if Sarah is made a widow like her comic book counterpart, she would be an expert on grief.
Despite all of this conjecture, there are concrete MCU facts to support the idea that Steve Rogers will pass away in The Falcon and the Winter Soldier. The Avengers: Endgame script pegged Steve Rogers as being 112 years old when he appeared to Sam at the end of the film, so he was a bit long in the tooth. Plus, Rogers was featured among deceased Avengers like Tony Stark and Natasha Romanoff in Midtown High's tribute video seen in the opening of Spider-Man: Far From Home.
There are a number of unknowns that still surround The Falcon and the Winter Soldier, but we do know the mantle of Captain America will be a massive part of it. Ultimately, we'll just have to wait and see if Steve Rogers passes on during the show, and if he does, we'll all need to break out the tissues.
The Falcon and the Winter Soldier makes its Disney+ debut (opens in new tab) on March 19.
Covering superheroes, sci-fi, comedy, and almost anything else in film and TV. I eat more pizza than the Teenage Mutant Ninja Turtles.
Your Daily Blend of Entertainment News
Thank you for signing up to CinemaBlend. You will receive a verification email shortly.
There was a problem. Please refresh the page and try again.