Robert Downey Jr, Chris Evans And More Avengers Dancing To WandaVision's 'Agatha All Along' Is Peak MCU Hilarity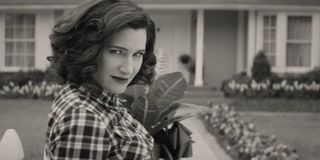 Spoilers for the latest episode of WandaVision below, so be warned!
Marvel Studios and Disney+'s WandaVision is seven episodes in, and the episodes have been getting better and better. But there is one thing fans have not been able to stop talking about, or listening to, since the most recent episode released. The series' sitcom vibe, often shown through the episodes' various theme songs, arguably peaked in Episode 7. There, it was revealed that Agnes was not the innocent and fun-loving neighbor living next to Wanda Maximoff and Vision, but rather a villain, and she got her very own Munsters-esque theme song that has been sweeping the nation.
Agatha's theme song, "Agatha All Along" has legitimately been climbing the iTunes charts, and is all over TikTok and various social media platforms. Now how does one make the MCU's best original song even better? Well, one fan has made a clip mashup of multiple Avengers actors, such as Robert Downey Jr. and Chris Evans, bopping along with the song. It's a testament to the editing that it almost seems like they're really dancing along to the catchy tune. Check out the hilarious clip below!
Wasn't that clip just the best? It's been so long since we've had anything from our favorite MCU superheroes on the big screen, so even a Twitter-set supercut will do the trick! Seeing Robert Downey Jr., Paul Rudd, Michael B. Jordan, Chris Hemsworth and all the others dancing along to one of the greatest songs of 2021 (to date) is so great. And the fact that the song matches up almost perfectly shows just how dedicated fans are. Or maybe how good these actors are at predicting exactly what this song would sound like.
Many Marvel fans have also surprisingly just found out that Scarlet Witch herself, Elizabeth Olsen, is related to Full House vets Mary-Kate and Ashley Olsen. Some fans just never put two and two together until Olsen brought it up in a recent interview. However, if fans watch WandaVision closely enough, there was a nod to the famous twins and Full House in one of the episodes! Olsen even mentioned last year how filming the series reminded her of her sisters and the popular '90s sitcom, as she would visit tapings to watch her siblings act.
WandaVision has been able to maintain a comedic dance-worthy storyline, despite sometimes getting more serious with its narrative. The most recent episode had a nod to both The Office and Modern Family, with previous episodes paying tribute to shows from the various eras of TV's past, and the next episode is supposed to take place in the 2010s, so fans are eager to know which shows the Marvel Disney+ series will honor! If they want to throw more catchy ditties in to the mix, I don't think anyone in the MCU or outside of it would complain a single bit.
Passionate writer. Obsessed with anything and everything entertainment, specifically movies and television. Can get easily attached to fictional characters.
Your Daily Blend of Entertainment News
Thank you for signing up to CinemaBlend. You will receive a verification email shortly.
There was a problem. Please refresh the page and try again.