Following Those Andy Cohen Comments, All Those Real Housewives Of Miami Rumors Are Coming True And There's More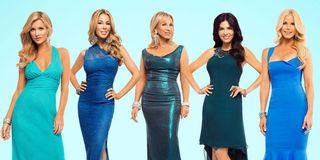 Listen up all you cool cats and kittens: The rumor mill has been aflutter with the possibility of The Real Housewives of Miami returning to television for Season 4 for some time now. More recently, Bravo personality Andy Cohen was even asked about the possibility of adding more Housewives shows to the NBC/Bravo/Peacock family slate. Though he said there really wasn't room for new shows, he'd previously said he's been wanting the Miami-set show to make a comeback. Now, The Real Housewives of Miami is officially coming back, y'all. And there's more news to boot.
Specifically, Peacock, NBC's charmingly-named new-ish streaming services, is expanding its slate of content in the coming months. An announcement on Wednesday officially committed Real Housewives of Miami to a fourth season on the streamer and Andy Cohen will be back as an executive producer along with Purveyors of Pop's Matt Anderson, Nate Green and Cooper Green also executive producing.
What that leaves wide open still is the cast. The rumor mill on that front has abounded with the idea that Larsa Pippen might be involved, now that she has moved from Los Angeles to Miami after split with Scottie Pippen. That leaves her open to potentially rejoin the series as part of the new cast should she choose to do so. Hollywood Life previously reported she's "seriously considering" it ahead of the Peacock announcement. Pippen was originally a part of the first season of the original show.
Along with The Real Housewives of Miami reboot, there's other news on the Peacock front as well. Andy Cohen's getting his own unscripted new series on Peacock called "Ex Rated" that is being described as a series that looks at grown adults who have started sending "exit surveys" when things go wrong in their dating life, leading to split-ups. I have no idea how this series will last over the long haul, but count me in for at least an ep or two.
Also, the Pontiac Bandit himself, Craig Robinson, is getting his own lead role in a TV series that is still untitled but was formerly called Killing It. The Office actor and comedian had his own show Mr. Robinson that only lasted for one season before being canceled in 2015, but here's hoping the new Peacock series will be able to give the actor a vehicle with a little more longevity. Additionally, Peacock has signed on for a new Chris Redd/Lorne Michaels series and its first venture into true crime programming John Wayne Gacy: Devil in Disguise.
Now, if you are hoping for even more Real Housewives news coming down the pipeline, this may be where I need to dissuade you. Andy Cohen's been clearly making some chess moves to get this Peacock/Miami deal to happen, but the longtime Bravo personality seemed like he was happy with where the franchise is at otherwise, noting in a recent episode of Watch What Happens Live that:
Now, I know not every fan agrees with this assessment and maybe eventually more shows will come down the pipeline, but for now, I suppose we should just take a moment to breathe and marvel at the fact that The Real Housewives of Miami is actually, years later, making a comeback. (It ended in 2013!) While we wait, you can take a look at what else Peacock is offering with our full guide.
Reality TV fan with a pinch of Disney fairy dust thrown in. Theme park junkie. If you've created a rom-com I've probably watched it.
Your Daily Blend of Entertainment News
Thank you for signing up to CinemaBlend. You will receive a verification email shortly.
There was a problem. Please refresh the page and try again.