How The Walking Dead's Maggie Will Be Different When Season 10 Returns, According To The Showrunner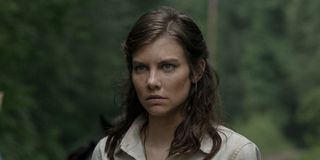 With The Walking Dead's return quickly approaching, we can't help but wonder what the long-awaited return of series regular Lauren Cohan's character Maggie will be like. The woman has seen some hard times in the post-walker wasteland of a world, and that's just the stuff we know about. Maggie was away for the six-year time jump and, apparently, the war-torn woman will be a lot harder than we remember, as revealed by showrunner Angela Kang.
We saw Maggie's return in Season 10's finale, but will see more of the new Maggie in the upcoming bonus episodes. The Walking Dead showrunner Angela Kang, in an interview with TV Line, says Maggie has seen a lot of evil in the world and has had quite the transformation. In Kang's own words:
We may have already seen a little bit of this Maggie that Angela Kang speaks of, remember when she hung Gregory at Hilltop without a trial instead of jailing him? That hanging was a lifetime ago in the world Maggie lives in, where death could be right around the corner, always. If that version of Maggie was just a sneak preview of what she is now, I would pity anyone who crosses the survivor.
In the same interview, Angela Kang says the new Maggie is a result of her shutting off her feelings in order to protect herself. However, she does give us a little bit of hope in saying that Maggie is still in there somewhere. Here it is in the showrunners own words:
We have been with Maggie through her losing her father and her sister and witnessing the love of her life get his brain bashed in. To imagine that Maggie has been through worse in the six years that have passed is mind boggling. However, she still has her and Glen's son to protect. This may be the reason she's hardened herself to the world, to make sure the last person she has stays safe. Her son may also be the source of her remaining soft self Kang speaks of, and it will be interesting to see how Maggie approaches motherhood now that her son is no longer a baby.
Even though it sounds like we will be meeting a whole new Maggie, we are definitely overdue for some Lauren Cohan, and it will be great to see (what's left of) the gang back together again for a bit. The Walking Dead returns tonight at 9 p.m. ET on AMC for the first of its bonus episodes, and we can't wait to see how Maggie handles meeting the new Negan, who has his own kind of transformation!
Constantly thinking about books, coffee, and the existential dread I feel from Bo Burnham's Inside. While writing I'm also raising a chaotic toddler, who may or may not have picked up personality traits from watching one too many episodes of Trailer Park Boys.
Your Daily Blend of Entertainment News
Thank you for signing up to CinemaBlend. You will receive a verification email shortly.
There was a problem. Please refresh the page and try again.