Why Star Wars' Mark Hamill Says It Was 'A Gift' To Play The Joker After Luke Skywalker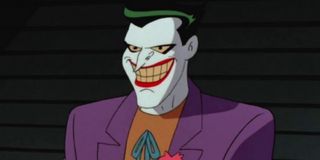 To many, Mark Hamill is a Star Wars icon, having played the famous role of Luke Skywalker over the course of several decades. However, following his initial tenure in the galaxy far, far away, Hamill ventured into the world of voice acting, and landed a pretty iconic role in the early '90s. The actor was cast as The Joker in Batman: The Animated Series and arguably became even more legendary due to his portrayal of the Clown Prince of Crime. Hamill has great affection for the character, and he recently opened up about why he considers it "a gift" to have played him after Skywalker.
Luke Skywalker is a very specific character -- the young, bright-eyed and heroic protagonist. So you can imagine that following his early Star Wars days, Mark Hamill was aiming to try his hand at a different kind of character. Well, after a fan on Twitter posted a meme joking about Skywalker and Joker, Hamill confirmed that he was indeed looking for a role that was the exact opposite of the plucky farm boy:
It goes without saying that Joker and Luke Skywalker couldn't be any more different from each other. At times, Mark Hamill likely had to go to some dark places to portray the evil nature of Batman's greatest foe. Nevertheless, he managed to do it by adding in plenty of wit and charm and, in the process, Hamill really got to flex his acting chops.
While numerous actors have played The Joker in both the realms of live-action and animation, many consider Mark Hamill's performance to be the gold standard. Following Batman: The Animated Series' cancellation, he would continue to voice the character in other DC Animated Universe shows like Superman: The Animated Series, Justice League and Static Shock. He's also voiced the character in other DC-related movies and TV shows.
Given how great Mark Hamill is in the role, some might be surprised to learn he wasn't the first choice for Joker. The equally legendary Tim Curry was initially set to play the part, but he was fired after he contracted bronchitis. From there, Hamill worked to develop the character, which included crafting a laugh that was menacing but multidimensional. He also avoided emulating Jack Nicholson's Joker, something the show's producers had also advised him not to do.
Mark Hamill's role as The Joker was certainly a gift for him, but it's also been a gift for fans over the past few decades. Simply put, it's one of the great comic book performances of all time and will likely be enjoyed for years to come.
If you've yet to check out Mark Hamill's Joker or just want to revisit his best moments, you can stream Batman: The Animated Series on HBO Max.
Covering superheroes, sci-fi, comedy, and almost anything else in film and TV. I eat more pizza than the Teenage Mutant Ninja Turtles.