Mark Hamill Is 'Forever Grateful' That Playing The Joker Allows Him To Frighten Children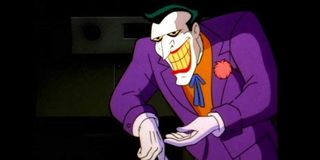 While Mark Hamill will forever be known as Luke Skywalker from the Star Wars films, for some, he was and always will be the definitive Joker from Batman: The Animated Series. Hamill has expressed great joy in having voiced the famous Batman villain and this holiday season, he says he's forever grateful that playing Joker still allows him to frighten children.
Mark Hamill posted a nice tribute to the Joker on Twitter this week. His message is heartfelt as he waxes poetic about why the role has been important to him and his work as an actor. Then, Hamill veered off in a completely different direction, which is very much his style because he himself is a social media jokester. Read his message below.
Along with the tweet, Mark Hamill posted several different photos of the Joker. One image was an incredibly creative fan art that included all the live-action iterations of the Joker, from Heath Ledger's The Dark Knight take to Joaquin Phoenix's latest version in this year's Joker, all sitting around a poker table. However, it's Mark Hamill's Joker who is at the center, mockingly turned towards the audience with the biggest smile on his face while holding a Batman card. Check it out below!
Though the post was obviously made in jest, Mark Hamill is right. Playing Joker did open the doors for him in terms of villainous roles, though his agent wasn't happy about his casting at the time. Prior to voicing the character for Batman: The Animated Series opposite Kevin Conroy's titular character (who wants to see Hamill join the Arrow-verse crossover, "Crisis on Infinite Earths"), Hamill was primarily known as Luke Skywalker, the hero of the Jedi.
Since Joker, he memorably played several villains, including the evil Hobgoblin in Spider-Man: The Animated Series, Firelord Ozai in The Last Airbender, and Darth Bane in Star Wars: The Clone Wars.
I imagine going back to play Luke Skywalker in the new Star Wars trilogy is a walk in the park for Mark Hamill, especially since he's played the character for so long, but it does seem that he revels in playing villains and in scaring kids with his Joker laugh.
While Mark Hamill hasn't been back to play Joker in a while, who knows what 2020 will bring? In the meantime, Hamill lends his voice to SkekTek in Netflix's The Dark Crystal: Age of Resistance. For more on what to watch in the new year, be sure to check out our midseason schedule to find out when your favorite shows will premiere.
Your Daily Blend of Entertainment News