The Mandalorian's Bill Burr Shares Blunt Thoughts On Gina Carano's Firing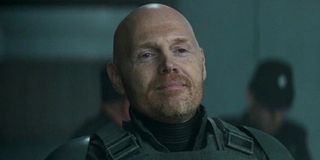 There have been plenty of reactions to Gina Carano being fired from The Mandalorian by Lucasfilm. While there are many who stand by Lucasfilm's decision and were even behind the movement to get her fired, a number of fans seem to stand with Carano, and she has even gained a good amount of followers since the debacle. The MMA fighter-turned-actress' Mandalorian co-stars have been relatively quiet on the subject of her termination. But now, it would seem that Bill Burr, who plays Migs Mayfield on the Disney+ series, has now spoken out and shared some very blunt (and admittedly on-brand) thoughts on the situation.
The topic of Gina Carano's firing came up in an episode of Bill Burr and Bert Kreischer's podcast, The Bill and Bert Podcast. Burr is a comedian known for his blunt and somewhat controversial thoughts. So it makes sense that Carano's firing could make him a little uncomfortable with his own future on The Mandalorian. During the episode, Burr says he now feels that he may have to watch what he says moving forward. Here it is in the comedian's own words:
Bill Burr covers a lot of topics and makes jokes on controversial matters, but things may be a little different now that he's in a major franchise like Star Wars. The Mandalorian has a huge following going into its third season, and there's a chance Burr wants to remain part of the franchise going forward. It's a huge part for anyone, even someone as established as Burr, even if it is a bit of a genre leap for the star.
Bill Burr's desire to not rock the boat of his current place (and potential future) in the Star Wars franchise may be the reason that he intially seems to not want to delve too far into the controversy surrounding Gina Carano. However, the F is For Family star did go on to defend Carano's character and state his belief that he could end even up under fire next. In Burr's own words:
Bill Burr is referring to the fact that Gina Carano's Cara Dune action figure has been pulled from shelves following her firing. Based on Burr's comments, he seems to be speaking less about the details surrounding Carano's firing and more about cancel culture in general. Times are indeed crazy right now, with the political climate in America over the last few years in addition to the pandemic -- and how people have taken sides regarding safety regulations.
Cancel culture has been a heavily debated topic over the past several years and, while many have been critical of the effects it appears to have on some star's careers, there are those who aren't heavily affected by it. Gina Carano may have been fired from Lucasfilm and all future Star Wars franchise projects, but the nearly undefeated MMA fighter's film career is nowhere near over. Meanwhile, Bill Burr also has a following from his comedy career so, even if we for some reason don't see his bald head on future Star Wars projects, there's still a firm chance he'll be sticking around in Hollywood in some way.
The first two seasons of The Mandalorian are currentlly streaming on Disney+.
Your Daily Blend of Entertainment News
Thank you for signing up to CinemaBlend. You will receive a verification email shortly.
There was a problem. Please refresh the page and try again.