Why The Voice Should Get Rid Of Blocks During The Blind Auditions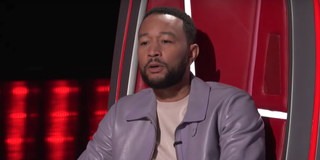 Minor spoilers ahead for the first three episodes of The Voice, Season 20.
In its 20 seasons, The Voice has often made adjustments to its process, such as changing the number of members on each team, introducing Steals and Saves, and inviting celebrity advisers and mentors. Most of the changes have seemingly served the contestants' best interests. Guest mentors give artists added perspective, Instant Saves give the audience chances to keep their favorite singers around, and Steals allow otherwise-eliminated artists to work with multiple coaches while extending their time in the spotlight. But there's one aspect of The Voice that the producers should do away with, as it actually might be counterintuitive to the artists' experience — the Blocks in the Blind Auditions.
On Night 3 of the Blind Auditions, the final Block of Season 20 was used, when John Legend blocked Nick Jonas as the two vied for Ciana Pelekai. Honestly I'm glad that part of the competition is done. It makes me itchy waiting for the coaches get rid of their Blocks so The Voice can proceed as it should. I was relieved when two of the first three auditions of Season 20's premiere saw Kelly Clarkson blocking Blake Shelton to get four-chair turn Kenzie Wheeler, and possible front-runner Jonas blocking Legend from adding Cam Anthony. Shelton then used his Block on Night 2. Let's take a look at the reasons it's time to change the rules again and get rid of Blocks.
Blocks Take Control And Focus Away From The Voice's Artists
For the most part, coaches being able to block each other is played for comedic value, and it is admittedly funny to see a coach turn for an artist they're interested in, only to have them to see "Blocked" in big red letters by their chair. Okay, it's even more hilarious when the coach doesn't immediately realize they've been blocked, since it only adds to their anguish when they finally do. Blocks are also strategic, of course, as coaches might think they have a better chance at an artist if a fellow coach of a particular genre is out of the picture.
But as the artists are already limited to choosing from whatever coaches turned for them, blocks take even more control away from the already nerve-ridden hopefuls, and on a show whose mission is to help propel the contestants to success in the music industry. This tool shifts the focus away from the talent and more onto the coaches and what kind of teams they're building, when ultimately The Voice is not a team competition.
Blocks Keep Contestants From Working With The Coach They Want
Getting a chance to perform and possibly work with music legends on The Voice is a huge opportunity for those auditioning, many of whom have struggled in overcoming extreme circumstances to get to this stage. Why rob them of the once-in-a-lifetime opportunity to work with the coach they think could best help them? Of course, there's something to be said for getting opinions from musicians outside of your genre, but that decision should be left to the artist.
It's understandable from a strategy standpoint why Kelly Clarkson would block Blake Shelton to give herself a better chance at a country artist. But it's also completely understandable — and ultimately more important — why a country artist would want to be coached by Shelton. Additionally the Blocks instantly devalue the four-chair turns. If a singer is able to woo all four music mega-stars, the ultimate prize is (or should be) the opportunity to work with the coach they think will help them the most. But it's not just the four-chair turns who are affected, obviously, since Blocks also happen on three- and two-chair turns.
For a recent example, many viewers took to social media to express disappointment after Nick Jonas' Block denied Cam Anthony the enviable chance to work with John Legend.
Even Cam Anthony had something to say when the episode aired, giving a good-natured jab to Nick Jonas for the Block.
Blocks Backfire When The Artist Picks A Different Coach
The premise of the Block may be beginning to sour on the contestants as well. What was intended to be a badge of honor — "I wanted you so bad I used my only Block to get you!" — has turned into the feeling that the artists are being sabotaged to miss out on their best interests. Even the coaches have started using this line of thinking, telling the contestants that someone who takes an opportunity away from them couldn't possibly have their best interests at heart. (Even though they all do it, every season, without fail.) When Blake Shelton blocked Nick Jonas during 19-year-old Gene Garcia's audition, Kelly Clarkson pulled no punches against her country rival.
In two of the four Blocks this season, the artist has chosen to go with a different coach than the one who used their Block. When Nick Jonas blocked John Legend from competing for Cam Anthony, Anthony made the surprising choice to join Blake Shelton's team after the cowboy promised Anthony he'd be the only singer of that genre on Team Blake. And after Shelton thwarted Jonas from working with Gean Garcia, Kelly Clarkson's to-the-point pitch against Shelton seemed to have worked, as Garcia ended up on Team Kelly. In Legend's Block of Jonas, the EGOT winner was the only other coach who turned, defaulting Ciana Pelekai to Team Legend. Should Blocks continue to be a part of the Blind Auditions in future seasons of The Voice, it will be interesting to see if Blocks end up working against the coaches.
Now that all four Blocks have been used this season, we can all sit back and watch the hilarity ensue, with no worries about a contestant being limited in who they can choose as a coach. And who knows, maybe the coaches who were blocked from contestants in the Blinds will get a chance to steal those very artists in the Battle Rounds. The Voice continues with another round of Blind Auditions at 9:00 p.m. ET Tuesday on NBC before dropping to just one episode a week — at 8 p.m. ET on Mondays — beginning March 15.
Mom of two and hard-core '90s kid. Unprovoked, will quote Friends in any situation. Thrives on New Orleans Saints football, The West Wing and taco trucks.
Your Daily Blend of Entertainment News
Thank you for signing up to CinemaBlend. You will receive a verification email shortly.
There was a problem. Please refresh the page and try again.